Posted on
Greyhound girls fall in Division 5 regional title game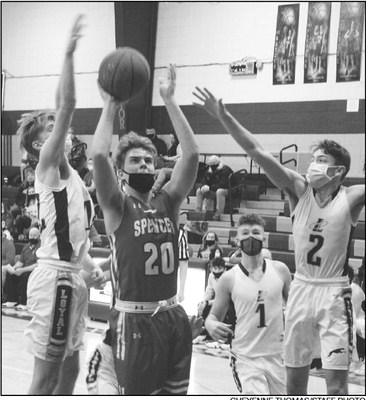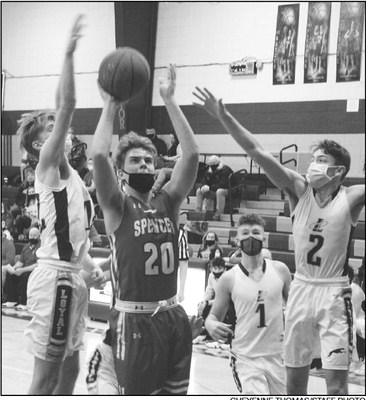 The Loyal girls basketball team's push toward a second straight WIAA Division 5 sectional appearance came up a game short with a 59-43 loss to Wisconsin Rapids Assumption in a regional final game on Feb. 13. Loyal's season ended with a 12-7 overall record and another secondplace finish in the Eastern Cloverbelt Conference.
Loyal's Savannah Schley and Assumption's Jessie Grundhoffer engaged in a scoring shoot-out in the game in Wisconsin Rapids, but Grundhoffer's teammates provided stronger support in enabling the Royals to move on to sectional play this year.
Schley scored 22 points for Loyal in her final game in a Greyhound basketball uniform as she went 6-8 from the field and 9-16 at the free-throw line. Assumption's defense was able to stop most everybody else, as Katlyn Lindner was Loyal's next highest scorer with eight points.
Loyal shot a respectable 48 percent (12-25) from the floor, but got off 18 fewer shots than did Assumption. That was in part due to 22 Greyhound turnovers. Loyal was 2-6 on 3-pointers and 17-31 at the free-throw line.
Assumption shot 56 percent (28-43) as a team and went 5-10 on 3-pointers and 6-15 from the line. Grundhoffer scored 25 points as she went 9-13 overall from the field and 3-4 from 3-point range.
Loyal was never really in the game after the first few minutes. After Assumption took a 5-3 lead, it scored seven straight points and then rolled to a 27-11 halftime lead. Loyal had committed 15 turnovers by halftime.
Assumption will now take on Independence in a Division 5 sectional semifinal.
Loyal 52 Columbus 28
Loyal reached the regional final by beating the Marshfield Columbus Dons for the third time this season.
Columbus kept it close for a half, and trailed only 20-15 at the break as the Greyhounds had eight turnovers by that point. Loyal broke it open early in the second half with a 9-0 run coming out of the locker room. Columbus scored just 13 second-half points and went 1-9 on 3-pointers in an effort to cut the gap.
Loyal shot 50 percent (20-40) overall in the game and was 7-13 on 3-pointers and 5-16 on free throws.
Lindner hit four shots from 3-point range on eight attempts and had a gamehigh 16 points. Kayla Bremmer scored nine points and Tylee Brecht added seven.
Finishing up the ECC season
Spencer's Carson Schmidt puts up a shot in the paint against the defense of Loyal's Daymian Baird (left), Drew Stieglitz (1) and Deagan Sandelier (2) during the Greyhounds' 66-39 win over the Rockets on Feb. 13 in Loyal. The win lifted Loyal into fifth place in the final Eastern Cloverbelt Conference standings with a 6-8 mark while Spencer finished seventh at 2-12.
CHEYENNE THOMAS/STAFF PHOTO