Posted on
Two losses knock Greenwood out of ECC contention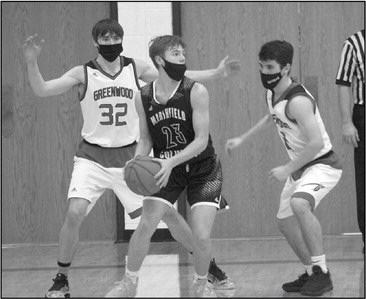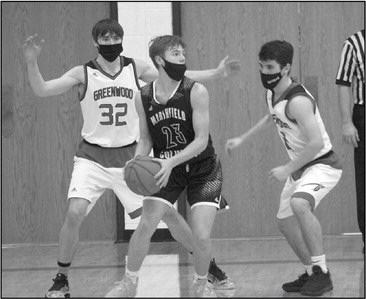 At the start of Eastern Cloverbelt Conference boys basketball play on Feb. 5, Greenwood was locked in a tie for first place with Marshfield Columbus. Within about 21 hours, the Indians were two games off the pace and down to third place.
Back-to-back losses to Owen-Withee and Columbus have now put an ECC title out of reach for Greenwood. It did bounce back with a win over Colby on Feb. 8, but now has just one league game remaining. The Indians can still salvage a tie for second by beating Neillsville on Feb. 11 for the second time this year.
With leading scorer Westen Schmitz hobbled with an ankle injury, Greenwood could not find enough offense against either the Blackhawks or the Dons. The Indians fell to Owen-Withee 60-47 on Friday night, and then managed even fewer points in a 62-39 home loss against Columbus in a Saturday afternoon game.
Greenwood was blown out of the game early as Columbus hit a barrage of early 3-pointers to take a 19-4 lead less than seven minutes into the game. Greenwood tried to match the perimeter attack, but missed five straight shots from 3-point range in one early stretch. Schmitz did hit a pair of 3-pointers and Nathan Revier added another during a 2-minute span, but the Dons kept the pressure on and still held a 29-13 lead with 7:12 to go in the half. Greenwood finished the half on a 5-point run but still trailed 36-21 at the break. The Dons then opened the second half on a 17-4 run that put all hope out of reach. Cooper Bredlau's 11 points led Greenwood and Rogan Travis scored seven. Columbus got 14 points from Sam Wilczek and 12 from Grant Olson.
At home against Colby on Monday night, Bredlau knocked down a trio of triples in the first half on his way to a 24-point night as Greenwood won 61-55. Revier added 14 points and Schmitz scored nine.
Greenwood has a #4 seed in its WIAA Division 5 regional, and will host Loyal in a quarterfinal game on Feb. 16. The Indians and Greyhounds played two close ECC games this season, with Greenwood winning 36-30 on Dec. 10 and then taking a 62-58 win on Feb. 2.The winner of that game will take on Columbus on Feb. 19.
DEAN LESAR/STAFF PHOTO