Posted on
Rocket girls climb to fifth in ECC, Loyal settles for second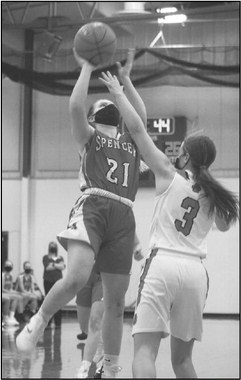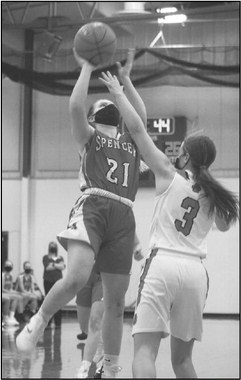 The Spencer girls basketball team picked up wins over Granton and Colby in its final two Eastern Cloverbelt Conference games of the season to finish 6-7 and climb up to fifth place in the league standings. That gave the Rockets some momentum heading into their Feb. 9 WIAA Division 4 regional quarterfinal at home against Abbotsford.
At Granton on Feb. 5, Zalexis Mannigel scored 15 points and Heavyn Kind added 13 as the Rockets led all the way and coasted to their sixth win of the conference season. Spencer led 32-12 at halftime. Mannigel hit six field goals and went 3-4 from the freethrow line. She scored 11 of her 15 points in the first half.
Amber Becker was 4-4 on free throws in the game as Spencer hit 11 of 15 in the game.
Kristin Strey scored eight points to lead Granton.
Against Colby on Feb. 5, the Rockets got 12 points from Mannigel and 11 from Kind in the 50-45 upset win over the Hornets. Spencer held a 25-20 lead at halftime and found a way to make the 5-point advantage stand up.
Spencer was 14-28 from the free-throw line. Colby was 9-12.
Correction: In last week's TRG, the scoring statistics for Spencer against Gilman on Jan. 30 were incorrectly reported. Mannigel scored nine points for the Rockets and Becker added eight.
Loyal 55 Gilman 30
Loyal finished off its ECC season with a 25-point win over Gilman on Senior Night. Appropriately, the team's three seniors led the way as Katlyn Lindner scored 17 points, Savannah Schley scored 15 and Kayla Bremmer added 11.
Loyal was on from long-range, hitting seven shots from beyond the 3-point arc. Lindner was 5-7 on her own, and Schley and Bremmer each added one. The Greyhounds shot 39 percent (23-59) overall from the field and went 2-5 on free throws.
Gilman hit just 24 percent (12-51) of its shots and was 3-19 on 3-pointers and 3-9 from the free-throw line.
Loyal earned a #2 seed in its WIAA Division 5 regional, had a first-round bye. On Feb. 12, the Greyhounds will host either Marshfield Columbus or Granton in a regional semi-final. The winner of that game will play the following evening for a regional title.
CHEYENNE THOMAS/STAFF PHOTO
DEAN LESAR/STAFF PHOTO