Posted on
Greenwood boys stay atop ECC with second win over Rockets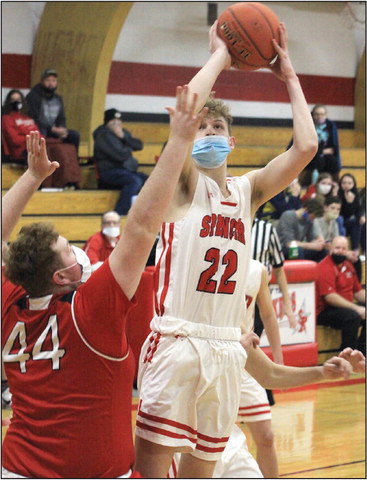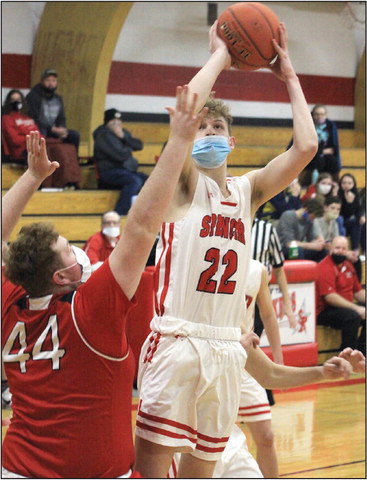 The Spencer boys basketball team made it more difficult for Greenwood on Monday night than it did in a 40-point loss to the Indians less than two weeks ago. The end result was still a 64-38 win for Greenwood that keeps it unbeaten and in first place in the Eastern Cloverbelt Conference as the post-holiday break season resumes.
The Rockets kept the margin to as little as five points late in the first half. A series of turnovers and missed shot opportunities were Spencer's downfall early in the second half as the Indians put together a 15-4 run over a 7-minute span to bulge the lead to 20 points.
Spencer was not completely out of it yet, though, and managed a 12-4 run of its own to cut the Greenwood lead back down to a dozen with 6:39 to play. Junior Kaleb Brandt drained a pair of 3-pointers from the corner during the run, and added a score in the paint.
Greenwood stopped the Spencer momentum on a 3-point play on a fast break from Nathan Revier. Revier then added a pair of bonus free throws and Westen Schmitz scored on an offensive rebound on a free-throw miss to put Greenwood up 56-35 with 3:54 left on the clock.
Schmitz burned Spencer for 27 points in the Indians' 70-30 win over the Rockets on Dec. 22 in Greenwood, and Spencer did what it could to hold the senior in check in the rematch. Schmitz had eight points in the first half, but added 13 more after the break to finish with 48 points against the Rockets in two games.
Revier added 14 points for Greenwood and Austen Humke put up seven.
The Indians hit a trio of 3-pointers on the night.
Brandt scored 17 points to pace Spencer. He had the two 3-pointers and Dylan Riemer added a third for the Rockets.
Greenwood's grasp on first place in the ECC will be tested this week as the Indians face the league's other two unbeaten teams for the first time. Greenwood was to travel to Marshfield Columbus (4-0) on Tuesday night and will host Neillsville (3-0) on Jan. 7.
DEAN LESAR/STAFF PHOTO