Posted on
Rocket girls are turning the tide by winning close games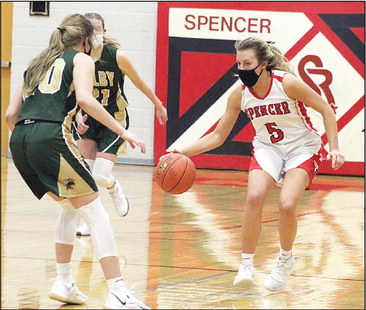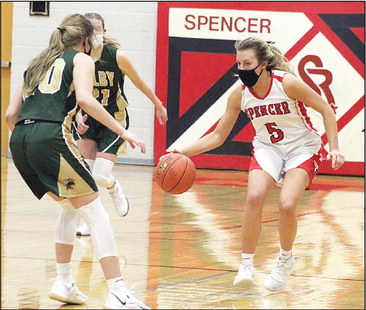 The Spencer Rockets girls basketball program is experiencing a resurgence in Krystal Weier's second year as head coach. After going 7-16 last season, Spencer has already posted a 5-4 record in the first weeks of competition.
The difference this year is that the Rockets are winning the close games. Three of their victories have come by less than six points this season, and their losses have often been by single digits.
"We definitely are winning these close games. The difference this year is just the team chemistry," Weier said after Spencer's clash with Colby on on Dec. 17. "I've never seen a team as tight or as bonded as this team. They trust each other and that's the best part about this team."
The Rockets played in three more close contests last week, topping the Athens Bluejays 48-42 on the road on Dec. 15. They suffered a 54-51 loss to Colby on Thursday, but quickly regrouped to take down the Ashland Oredockers at home 52-48 on Saturday.
That victory over Ashland was especially significant, given that Ashland is a D-2 team and boasts a student population of over 660 students. It was only fitting that the game went down to the wire, with Spencer needing an extra frame to get the job done.
The Rockets offense was clicking, with junior Heavyn Kind leading all players with 19 points. Kind wasn't the only Rocket to fill up the net. Zalexis Mannigel tallied double digits with 12, and that production has been key for Spencer.
"This year we're definitely shooting a lot more," Kind said. "We have trust in each other a lot more. We're just a better team this year."
Spencer took an early 22-18 in the first frame off of Kind's shooting, but the Oredockers responded in the second half, outpacing their hosts 26-22 to send things to overtime. The Rockets got help from Madison Knecht, who struck from deep three times on Saturday for nine points.
The biggest factor in the Rockets' weekend success was from the charity stripe. Spencer got to the line 34 times, and converted 20 of those attempts. Both Kind and Mannigel made eight free throws, with all eight of Spencer's points in overtime coming from free throws.
Spencer's composure was joined by steady defense, as the Rockets held Ashland to four points in the extra frame to earn a 52-48 decision and improve their season record to 5-4.
Rockets split two games
Prior to their weekend encounter with Ashland, the Rockets went 1-1. Spencer took care of business against a taller Athens squad in a non-conference meeting on Dec. 15, and that 2-3 zone defense nearly guided them to a victory over Cloverbelt rival Colby at home two days later.
Spencer allowed just one player to score in double digits on Dec. 15, as McKennzie Schug led Athens with 10 points. Kind was the spark that set the Rockets off in the first half, splashing three triples to guide the Rockets to a 25-21 lead at the break.
Kind's 20 points was a game high, but it was junior Amber Becker who pulled the Rockets across the finish line. Becker had just two points in the first half, but found her range in the second, scoring 11 of her 13 points in the last stanza.
Rebecca Mlsna added seven points on the night, Madison Knecht scored five and Zalexis Mannigel's three gave Spencer the 48-42 road win.
The Rockets nearly pulled out another close win two days later, but Colby's height and experience guided them through a game filled with turnovers, fouls and free throws. Spencer went back to their 2-3 zone, but were gashed by Colby's inside game.
"We knew that they had a lot of returning players, but we only lost one player last year, so we knew it was going to be a good game," Kind said afterwards. "We did a good zone last game, so we wanted to stick with that and keep doing what we were doing."
The Hornets either scored in the paint or finished at the line, and took a 26-21 advantage into the second half. Each team traded baskets in the second half, but three of Colby's players scored in double figures while just two achieved the same feat for Spencer. Heavyn Kind notched a game high 15. Rebecca Mlsna scored 11 and Madison Knecht added nine.
The Rockets connected on a deep three in the closing seconds and out-scored Colby 30-29 in the last stanza, but the Hornets earned their first victory of the year at the Rockets' expense. Weier knows her players will be eager to get a second crack at Colby when they play them on the road later this season.
"It's a tough loss, but I hope they remember it so when we play them again it will hopefully be different," she said. "They know now that they can win. They know that they have the potential, and they have high expectations for themselves."
ROSS PATTERMANN/STAFF PHOTO