Posted on
Gilmanton edges Bulldog girls with score in game's final minute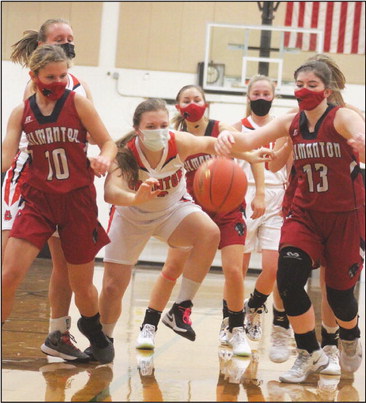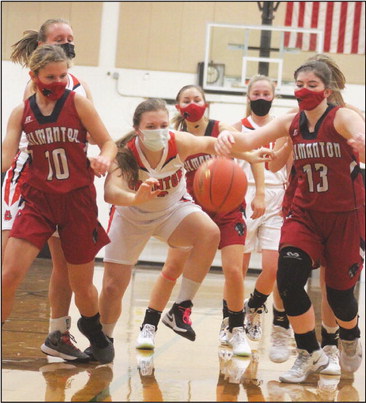 One point ended up being the deciding number in the Granton girls basketball game against Gilmanton held on Dec. 12. The low scoring game was close throughout the matchup, but the Panthers managed to score with one minute remaining in the game to give themselves a 30-29 win over the Bulldogs.
The Bulldogs were aggressive with their defense, which helped to lower Gilmanton's chances under the net, but also gave Gilmanton plenty of free throw chances, which they used to their advantage. The first points in the game by Granton were scored by Makenzie Muraski and Megan Walter, which Gilmanton answered to eventually lead 6-4.
Gilmanton continued to keep its lead over Granton despite a pair of scores by Kristin Strey. The Panthers were given their first free throw attempt, going 1-for-2 on the shot before scoring again to put them up to 11. Muraski quickly tied it up though with a three-pointer and with three minutes left in the first half.
In the last three minutes of the half, Gilmanton got three free-throw opportunities, going 2-for-2 on two of those shots at the line and 1-for-2 on the other.
Granton had scores from Walter and Strey to keep the game within one point, ending with a 16-15 score in Gilmanton's favor.
Granton came out strong in the second half, with Walter shooting a layup to put them ahead by one.
The Bulldogs then kept the Panthers away from the net until the 13:10 mark where Gilmanton was able to go 2-for-2 on a free throw attempt, score a layup and a three-pointer to give them their biggest lead in the game of 23-17.
During the last 12 minutes of the game, Strey was Granton's go-to scorer, shooting a pair of three pointers and a layup to bring the game back to within a one-point margin. In the last five minutes, it was a back and forth game between the Bulldogs and Panthers as one would score to gain the lead before losing it to the other team. Strey continued to score the points needed to keep Granton in the game, but with one minute left, Gilmanton managed to score a final time and kept the ball away from the Bulldogs until the last seconds ticked off the clock, ending with a 30-29 score.
The top scorer for Gilmanton was Lydia Evan with 16 points, including one 3-pointer and a 1-for-2 record at the line. Strey was the leading scorer for the Bulldogs, making 18 points with two 3-pointers. Walter added six points and Muraski contributed 5 points, including a three-pointer.
CHEYENNE THOMAS/STAFF PHOTO