Posted on
Pirates fall 24 seconds short of unbeaten season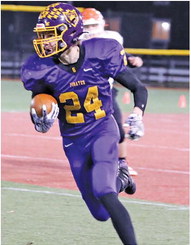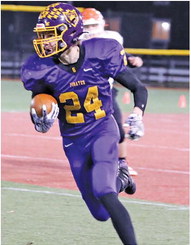 BELMONT 24, GILMAN 20
The Gilman Pirates weren't viewing Friday's eight-player football showdown with Belmont at Mauston's Woodside Sports Complex as a state championship game like some people were, but the contest was worthy of that consideration.
The back-and-forth game turned one final time when the Braves started a drive at their own 5-yard line with 4:33 left and took the football 95 yards to score the gamewinning touchdown on a 23-yard scramble by all-state quarterback Riley Christensen with 24 seconds left. The touchdown gave 7-0 Belmont a 24-20 win and handed the Pirates their first eight-man loss after seven wins this fall.
Gilman head coach Robin Rosemeyer said the defeat felt exactly like a 24-17 WIAA Division 7 Level 2 loss in 2018 where the Greyhounds drove 96 yards to win the game in the final 30 seconds.
"Offensively we just needed one more first down," Rosemeyer said. "We got to their 39 (on our last drive). If we could've gotten one more first down, it probably would've taken at least another two minutes off the clock. But we were unable to convert."
The Pirates knew going in that containing Christensen was going to be a challenge and it turned out to be tougher than they thought. The 6-2, 220-pound senior, who followed the outstanding blocking of his offensive line, ran for 350 yards on 42 carries and scored all four of Belmont's touchdowns, including two in the fourth quarter.
"Christensen is the real deal, really the whole team is," Rosemeyer said. "They looked good on film but they look even better in person. Their line is better live than on film. They're physical yet they're athletically able to get off the ball and do some things even though they're big. (Christensen) is 6-2, 220 and then he's got the twin linemen ahead of him, the Douglas brothers (Mitch and Michael), they're both athletic, they move well. They're very intelligent. It looks like they've been playing on the line for a couple of years because they were able to block one guy and then they do a great job of getting downfield blocks. They complement each other well."
Gilman proved its worth as well, taking some early punches but making enough plays to just stay in the game in the first half and then taking over the game for a time in the third quarter.
The Pirates only ran for a season-low 126 yards, but they countered by passing for a season high 198 yards as Julian Krizan completed 15 of 22 passes. Offensively, the Pirates took what the Braves gave them.
"Their defensive line was pretty big," Rosemeyer said. "They had good gap control. Their ends were wide enough where we had trouble getting outside of them. ... With their four-man line, it did open things up with the passing game in the flats that we were able to take advantage of. Really we probably should've passed some more. That was just kind of what they gave us. During a game you kinda hate to not do what you do."
Belmont struck first and quickly. After Gilman's opening kickoff went out of bounds, the Braves needed just a few plays to go 65 yards in 1:11 and score on Christensen's 30-yard run.
The Braves drove into Gilman territory on their second drive, but Gilman turned them away when Andrew Hecker intercepted a halfback option pass by Belmont's Waylon Palzkill at the goal line and returned it 17 yards. Gilman's ensuing drive stalled, then Belmont threatened again. This time, Bryson Keepers made the big play for Gilman's defense when his perfect blitz resulted in him taking the ball away on what was supposed to be a read-option handoff.
"We had to adjust to their speed a little bit," Rosemeyer said. "It's just something we couldn't duplicate in practice. I thought we got better as the game went on. But they took it to us early."
Belmont's fifth drive of the game ended in Christensen's second touchdown, a 6-yard run with 28 seconds left in the first half. The two-point try failed, keep- ing it 12-0. Keepers returned the kickoff 30 yards to put the Pirates around midfi eld. A 9-yard screen pass to Branden Ustianowski and a 27-yard pass to Kade Kroeplin with a facemask penalty tacked on put Gilman at the 4-yard line. Keepers was interfered with on a fade pass into the end zone, giving Gilman an untimed down to end the half and the Pirates took advantage with Krizan hitting Ustianowski for a 2-yard touchdown that cut the deficit to 12-6.
Now with some momentum, Gilman dominated the third quarter. The Pirates needed only a handful of plays to pay off their first drive. Brayden Boie got the touchdown, breaking off a 29-yard run. The two-point pass failed, keeping it tied 12-12 with 10:11 left in the quarter. Gilman's next possession covered 80 yards, chewed up a lot of clock and ended with Krizan's 7-yard touchdown run and twopoint conversion pass to Keepers. With 43 seconds left in the quarter, Gilman led 20-12.
"It was a good response," Rosemeyer said. "At halftime we were somewhat fortunate with the two turnovers that we got from them that we were still in the game really. But then to rebound like that and have a good third quarter really was a good response from our kids."
Belmont answered with a scoring drive of its own. Christensen's 4-yard touchdown came with 7:33 left. The Pirates stopped the two-point try to keep at 20-18 lead. Gilman took three minutes off the clock on its next drive, but, on third and eight, from Belmont's 39, Krizan was sacked, forcing a punt that was downed at the five.
"We haven't got sacked many times this year," Rosemeyer said. "We've been very good with not getting negative plays. That might've been our first sack of the year, though I could be wrong on that. They dropped from their four-man line to a three-man line and I should've called a timeout because I knew the play wasn't going too well because they had the flats covered then. We needed to change our play call and I didn't do it. That will be a regret."
Christensen completed his Belmont football career by leading the Braves on their storybook drive. Rosemeyer said the Pirates actually had the play bottled up at first on the winning touchdown.
"They had trips on one side and he took five steps on a rollout to that trips side," Rosemeyer said. "Bryson Keepers, at defensive end, had it cut off and (Christensen) just went the other way and ran around everybody for the touchdown. He went the opposite way he was supposed to go. We overpursued too much and he beat us with his speed to the outside."
Krizan completed two passes to Keepers to get the Pirates near midfield before Krizan's desperation deep fade on the final snap was intercepted. It was the only interception the junior threw all season.
"He had a really good night throwing the ball," Rosemeyer said.
Krizan was Gilman's leading rusher, collecting a modest 53 yards on 14 carries. Boie had 48 yards on eight carries and Kroeplin had 25 yards in 10 attempts. Kroeplin was the leading receiver with four catches for 81 yards. Keepers caught four passes for 47 yards and Boie caught four for 45.
While the loss stung, it provided a great atmosphere to end the season with.
"It's so much a shame because Newman and Greenwood are very good," Rosemeyer said. "It would've been, I think, a really good eight-man playoff this year. This could've been one of the playoff games. But it just goes to show you, I think there were some good teams that were available to play eight-man, as there have been in the past I'm sure. I think with more teams going eight-man, the level of competition is only going to get better and better. There's no shame losing to Belmont. They're a good team."
The Pirates will move on to year two of eight-man football without the graduating Boie, Kroeplin, Hecker and Isaac Wininger. But a solid crew should return for what they hope will be a more normal football season.
"We'll return six starters both ways," Rosemeyer said. "We won't be as deep. The kids that graduate are all skill kids. We won't be as deep in those positions, but we'll be deeper on the line. We'll have to make some adjustments with our skill positions a little bit. We have good skill kids coming back, we'll just need to help our depth there a little bit."