Posted on
MEDALS AND RECORDS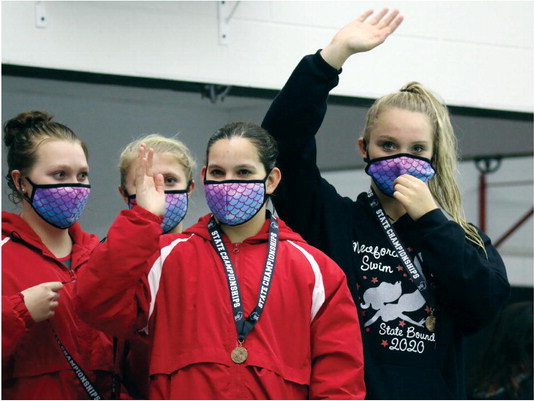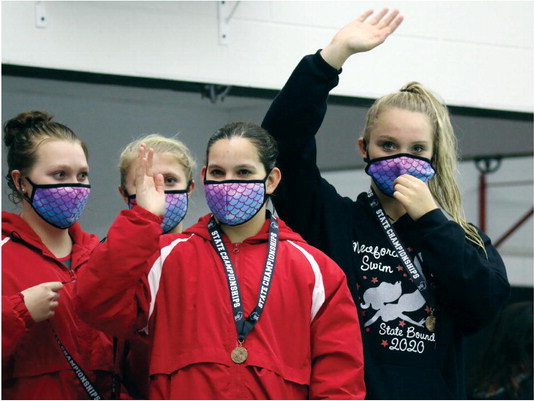 WIAA DIV. 2 STATE GIRLS SWIMMING
Swimmers end fall with fine state outing
To successfully navigate an unusual season and be able to send a sizable group of swimmers to Friday's WIAA Division 2 state championships at Waukesha South High School was rewarding in itself. But the Medford Raiders took it one step further, turning in five memorable performances in their season finale for 2020 and, for two seniors, the final meet of their prep careers.
The 200-yard medley relay team started the meet by setting a new school record and earning a spot on the awards podium. Senior Erin Bergman added two more school records in individual events and her fourth career medal in the 100-yard backstroke, senior Morgan Ball got under 1:03 for the second straight meet in the 100-yard butterfly and the 400-yard freestyle relay team closed the meet by dropping almost six seconds to earn, by far, its best time together.
"We did it," head coach Betsy Meinel said. "Who would've thought we would make it all the way through state swimming? Definitely not me when this season first started. We finished with a bang too. Five qualifiers, three school records and two podium finishes. It was our best state appearance yet."
The tone was set by Bergman, Aiden Denzer, Ball and Kami Razink in the 200-yard medley relay. After Great Northern Conference rival Lakeland won the first heat with a time of 1:52.66, the Raiders posted a time of 1:53.41 in the second heat, which, for a moment was good for sixth in the heat. However, Whitnall was disqualified, bumping Medford up to fifth for the heat and sixth overall, just behind the Thunderbirds.
The time broke the school record of 1:53.66 set at last year's state meet by Bergman, Faith Piller, Ball and Razink. The team had a sectional time of 1:54.07.
"This is the first time a relay team from Medford has made the podium in a very long time," Meinel said. "It was great to see the girls get rewarded for all their hard work in that event."
Shorewood won the race in 1:47.45, 2.93 seconds ahead of Wausau East, while Rhinelander (1:50.69) and Rice Lake (1:51.14) represented the north well by taking third and fourth. It was the start of a very good night for Rhinelander, who later left the pool as Division 2 team state champions.
Ball was next up for Medford in the 100-yard butterfly. Seeded 15th going in, that's where she ended up with a time of 1:02.84, just off her sectional time of 1:02.72 and her school-record time from 2019 of 1:02.15. Ball, who is bound for the University of Minnesota-Morris next year, finished ahead of Portage's Rubie-Ann Kohn (1:04.19) and just behind Rhinelander's Karis Francis (1:02.21). Rhinelander's Malia Francis won the first of her two individual state championships on the night at 55.96 seconds, 1.7 seconds ahead of Wausau East's Emma Clifford.
"Morgan came back in the 100 fly with a great finish," Meinel said. "She gave it her all in her last individual event of her high school career. She was just shy of her current school record, but the goal was always to get to state individually. Records are just a bonus if possible."
Then it was Bergman's turn to shine.
First, it was in the 100-yard freestyle, where she had qualified for state for the first time. She missed out by one spot last fall with a school-record sectional time of 54.62 seconds. On Friday, swimming in the fast heat, she was able to secure an eighth-place time of 54.18 seconds to lower her record. The eight swimmers in the final heat posted the top eight times. Bergman said swimming with that caliber of competition helped her.
"I beat my record by half a second," said Bergman, who signed her letter of intent to swim at St. Cloud State University on Monday. "That was just insane because I guess I've never raced at state against people that were the same speed as I have. I've never made it to state in the 100 free, so that was definitely a push."
Greendale junior Katarina Stanic won the race in 52.95 seconds, beating Rice Lake's Faith Forsberg by 0.27 seconds. Rhinelander freshman Abi Winnicki was third in 53.28 seconds and Ladysmith Co-op junior Brooke Lechleitner was fourth in 53.52 seconds.
In the 100-yard backstroke, Bergman added to her fourth-place finish from 2017 and her sixth-place finishes from the past two falls with a fifth-place time of 58.43 seconds. That was one-tenth of a second faster than her state time of 2018 that had held the school record.
Malia Francis won in 55.13 seconds, followed by Shorewood's Elise Jacobs (56.88), Whitnall's Rachel Lenz (57.43) and Rhinelander's Lisa Kennedy (58.15).
"My goal was to kick," Bergman said. "I didn't really kick, but I still cut time and broke my other record from my sophomore year."
Lacey Brandner, Razink, Ball and Bergman finished up with their ninthplace time of 3:48.82 in the 400-yard freestyle relay. The team was seeded 12th going into the race. The Raiders finished third out of eight teams in the first heat.
"The 400 free relay saw amazing split times from all the girls, each having a personal best time for the season," Meinel said. "It was great to see them all go out on top like that."
Brandner's split was 1:01.07, followed by Razink (56.59), Ball (57.23) and Bergman (53.93).
Rhinelander clinched its state title by winning the relay in 3:35.8, two-tenths ahead of Greendale.
The Raiders scored 71 team points to place 14th out of 28 teams present at the meet. Rhinelander's winning total was 255 points, while Shorewood took second with 228 points, Greendale was third with 202 and Whitnall (167) and Rice Lake (140) rounded out the top five. With many southern schools not swimming this fall, northern Wisconsin was well-represented. Wausau East (130) tied for seventh, Lakeland (115) was ninth and the Ladysmith Co-op (89) was 12th. Rhinelander won all three relays and five events overall. Lakeland was second, Wausau East was third and Rice Lake was fourth in the 200-yard freestyle relay. Forsberg of Rice Lake won the 50-yard freestyle.
"Our conference and sectional were well represented at state this year," Meinel said. "It was nice to see so many familiar faces in an unfamiliar pool. Nothing about this year has been normal and this experience was no different, but the girls rolled with it nicely and gave it everything they had. The state energy was still there and I'm proud of how the girls swam this weekend. We will be very happy to return to Madison next year though."