Posted on
DYNASTY CONTINUES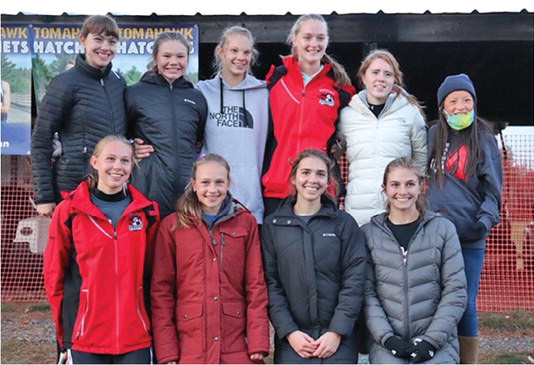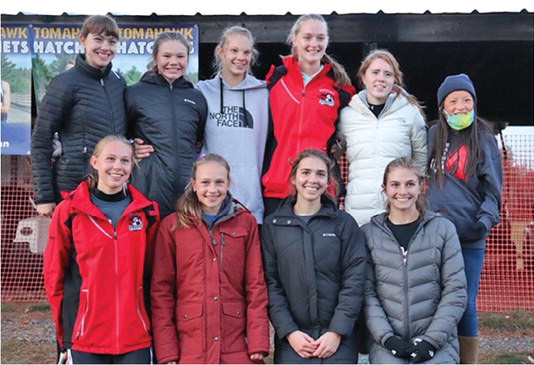 GREAT NORTHERN CONFERENCE CROSS COUNTRY
4th straight for girls; Sullivan wins boys race
Medford's girls cross country team made history when it won the program's first-ever conference championship in 2017.
All the Raiders have done since then is keep winning.
Medford made it four Great Northern Conference championships in a row Thursday at Tomahawk's Edgewater Golf Course where, as expected, they continued to outrun the GNC competitors they had been beating throughout their modified 2020 season.
The Raiders put all five scorers among the top 13 finishers and their sixth runner in 15th place. Running entirely against GNC foes this fall, the Raiders are a perfect seven for seven with first-place finishes.
"I say it's pretty cool because when we were freshmen, it was the girls' first year ever winning and then seeing how we could keep winning all the way up to when we're seniors is a pretty good accomplishment," said Ellee Grunwald, one of the team's two senior members.
The other senior, Alicia Kawa, agreed.
"I'd say we're pretty fortunate to, every year, have girls come up to where we're able to keep on winning," she said.
Medford totaled 38 points in Thursday's meet to hold off a challenge from host Tomahawk, who finished with 52. Lakeland fell to third with 70 points, followed by Mosinee (87), Rhinelander (114), Antigo (166) and Northland Pines (233). The six finishers in the top 15 earned All-Great Northern Conference honors for 2020, led by freshman Meredith Richter and Kawa, who placed third and fourth and landed on the sevenmember All-GNC first team.
Richter posted her best time of the season at 20:01.8 and, with a strong finishing kick, was 10.5 seconds ahead of Kawa, who was a half-second off her season-best time at 20:12.3. Richter credited Kawa with pushing her to the strong finish.
"I couldn't do that without Alicia there," she said.
The race's front runners were given some unexpected motivation when news broke on race day that Northland Pines freshman phenom Nora Grem­ GNC champs: girls win another team title, Sullivan is boys champ
ban would be unable to race, leaving the individual championship up for grabs.
"It was a huge like, whoa, she's gone," Kawa said. "We had high hopes of doing very well."
"It definitely helped that there were more spots for us now," Richter said.
"It was more about who had it in the tank at the end," Kawa added.
Lakeland senior Kate Melms seized the opportunity best and won the race in 19:47.4 to earn the coveted Runner of the Year award. Tomahawk freshman Rachael Rae Reilly used the home course advantage to take second just ahead of Richter in 19:59.6.
The Raiders put three runners on the All-GNC second team, reserved for runners in eighth through 14th place.
Junior Jennifer Kahn led that push by taking eighth in a season-best 20:46.8. She fell 8.7 seconds shy of the last firstteam spot, which was claimed by Antigo's Rylee Aird. Sophomore Brooke Rudolph had one of her best races of 2020, taking 10th in 20:57, her second-best time of the fall. Sophomore Bryn Fronk closed the scoring for Medford by placing 13th in 21:25.3 and Grunwald got All-GNC honorable mention by taking 15th in 21:31.2, just 3.4 seconds away from the last second-team spot.
Alexis Fleegel, a previous All-GNC award winner, was 43rd in 24:34.6 and Natasha Butt was 47th in a season-best 25:14.7 in the varsity race.
This race was another example of Medford's top runners jockeying for position against each other just as much as they are against runners from other schools. They said that's a big part of what's made them so tough to beat.
"I personally do," Kahn said when asked if she believes in the power of internal competition.
"It's a competitive team and if there's someone you normally beat in a race and they're beating you, it kinda pushes you to run a little faster," Grunwald said.
"If someone does beat you, it motivates you more," Kawa said.
Medford had one more entrant in Thursday's race. Freshman Kylie Potvin placed 10th out of 26 runners in the JV race with a season-best time of 25:35.
Sullivan is boys champ
In the boys race, Medford junior Joe Sullivan had his first full-out race to the finish of 2020, but he got the job done, holding off Tomahawk's Noah Buckwalter to win the GNC's individual championship.
With Sullivan winning the title, Tanner Hraby landing on the All-GNC second team and senior Jack Tlusty earning honorable mention, Medford placed third with 93 points. The Raiders trailed Tomahawk (32) and Lakeland (63). Northland Pines (109), Rhinelander (112), Antigo (119) and Mosinee (163) rounded out the team scoring.
After two second-place finishes, Sullivan was thrilled to win the race this time and remain undefeated for the fall.
"I wanted to win that a lot," he said. "I knew I had a good chance going in to win it. I knew Tomahawk was good because we had run against them before and they didn't run their best times. I know that wasn't (Buckwalter's) PR when we ran against them before. It was good to have him right there. That really helped me. That was a good win." Sullivan's time was a new personal best of 16:40.9, while Buckwalter was 1.7 seconds behind. Sam Gremban of Pines was a distant third at 17:14. Tomahawk's Drew Bolder (17:23), Lakeland's Scott Balas (17:24.2) and Owen Clark (17:37.2) and Tomahawk's Alex Norman (17:50.6) rounded out the first team.
This was the first meet in some time where Lakeland ran at full strength.
Sullivan said running on a golf course, where it's relatively flat and hill-less led to his speedy time.
"It was pretty close," Sullivan said. "I ended up beating (Buckwalter) by two seconds. Our first mile was pretty slow overall. Even the other people that we've ran against before, usually our first mile is a lot faster. He was with me. I could always hear him behind me. Every time we'd go over blacktop or gravel I could hear the scratching of his spikes.
"It was a sprint to the finish for sure," he added. "He caught up to me with maybe 100 meters to go. He was right there, but I think he kicked it in maybe too early, which he kinda had to. Then at just the very end I made a little gap."
Hraby, a freshman, continued his solid debut season with a 12th-place time of 18:34.9.
"I'm pretty impressed," Hraby said. "I didn't know what to expect really coming into this season. I would say (this race) went pretty good. I placed kinda where I wanted to."
Tlusty, a first-year senior in the program, placed 18th in a season-best 18:59.7.
"It's pretty cool," Tlusty said. "I didn't have too high of hopes for my year because obviously it's my first year of doing it. I think I did pretty good for being inexperienced. I've shaved quite a bit of time off since the first race. It was pretty difficult to get back in but once I did, once I got back into shape, it was cut and dried from there."
Sophomore Tristan Price was 28th in 19:36.3, freshman Logan Gubser was 34th out of 48 runners in 20:16.3, senior Logan Searles was 39th in 20:31.4 and freshman Nathan Willman was 41st in 20:49.3.
In the JV race, Lucas Borman was sixth out of 12 runners in a season-best 21:13.4, while Ethan Mottle was ninth in a season-best 21:53.4.
Subsectional postponed
The WIAA Division 1 subsectional meet in Medford was postponed to Wednesday due to Tuesday's snowstorm and was held after this week's deadline for The Star News.
Competition was held in two groups with half of the schools starting to race at 1:30 p.m., while the second half, including Medford was set to start at 4 p.m.
The top two teams and top five individuals from non-qualifying teams advanced to Saturday's sectional meet at Chippewa Falls. There, the top two teams and top five individuals will advance to the Oct. 31 state meet, details of which are still to be announced by the WIAA.
"I'm not too mad about it," Sullivan said Tuesday of the subsectional delay. "It's not terrible, but by our 4:30 race, it would've been a blizzard or an inch of snow on the ground, which I could see being a little unfair for us. I guess it's not a huge deal moving it to (Wednesday)."