Posted on
Marathon falls in season opener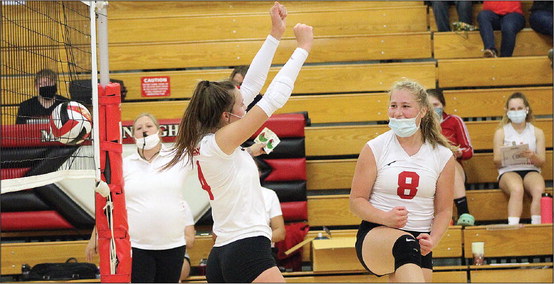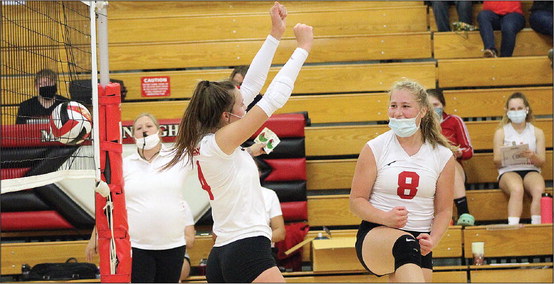 Eagles down the Red Raiders in Marawood play
By Casey Krautkramer
Marathon played great team volleyball in its 25-22 set win against Auburndale on Tuesday at home. The only problem was Marathon couldn't sustain this level of success throughout the entire match.
The Red Raiders lost their remaining sets, and ultimately the match 3-1, against the Eagles, which were formerly nicknamed the Apaches.
Marathon co-head varsity and junior varsity coaches Nicole Schneider and Lynelle Love are back to lead the program this year. Paige Wirkus is the JV2 coach this season.
The team lost many outstanding senior players from last year's team to graduation, including attack kills leader Liz Boehm.
"We did lose talented seniors last year, but those seniors did a great job in modeling competitive spirit, team first attitude and work ethic that has transferred into our returning players," Schneider said. "Our underclassman and seniors are ready to step up and fill the roles we are missing from last year. We have some young hitters that will bring consistency and a new look for our usually dominant middle game. Our new sophomore setter has also melded well into our system and she is proving already to be an asset. We are excited to see what this year brings for us and are looking forward to a successful year."
The co-head coaches are expecting hitter Hope Krautkramer, who is the team's lone returning senior this season that has two years of varsity playing experience, to lead their squad this volleyball season.
"Hope's attitude and work ethic is to be admired," Schneider said. "She leads by example, as well as vocally when needed. Hope will have the opportunity to make some big plays on the court and lead our team well. She has worked extremely hard in the offseason and was ready to get back on the court this fall. Hope understands both the privilege she has in being able to play this year, as well as the urgency of the season with the unknown."
Marathon's other top returning players this season are junior hitters Allison Wokatsch and Vanessa Krueger, and back row player Jenna Aschbrenner.
Newcomers to the varsity squad who should see playing time this season are senior setter Kaitlyn Rusch, senior hitter Aria Quiggle, junior middle hitter Alyssa Hall, sophomore setter Ashley Phakitthong and freshman middle hitter Ava Krueger.
Athens has a young squad
The Athens varsity volleyball team has four freshmen in its starting lineup to begin this season; therefore the young Bluejays could struggle at first but continue improving and finish this season strong.
Tanille Hartwig has begun her fourth season as Athens varsity head volleyball coach. Jessica Bingham and Kathy Luther are also back to assist Hartwig.
Athens lost, 3-0, in Tuesday's season- opening match at Phillips. The Bluejays fell in straight sets by scores of 25-15, 25-11 and 25-16. Athens has its first home match of the season at 7 p.m. this Thursday, Sept. 17, against Marathon.
Tanille Hartwig is counting on senior left side hitter Shauna Belter's experience to lead the team this season. Belter paced Athens with seven attack kills in the team's match loss to Phillips.
"Shauna not only contributes physically on the court, but she's also our leader on the court," Tanille Hartwig said. "Shauna's positive attitude and strong work ethic are just what we need to lead a younger team. We are looking to her to consistently lead us on the stats sheet but also set the standard for what we expect when it comes to focusing and working hard."
Athens has the following four freshmen in the starting lineup to begin this season: Setter and middle hitters Addison Lavicka and Jazelle Hartwig, and twin right side hitters Sydney and Sophia Coker. Lavicka led Athens with nine pass assists against Phillips.
"I am looking at all of our starting freshmen to bring something new and exciting to the volleyball court this season," Tanille Hartwig said.
The head coach continues to build a tradition of winning in Athens. She'd like Athens to soon be a volleyball powerhouse each and every season like Marshfield Columbus, whom Athens lost to in a WIAA Division 4 regional championship match last season.
"I think one of our biggest struggles is believing we can do it," she said. "Showing up and working hard is one thing, but believing in yourself and having confidence on the volleyball court is another challenge. As our girls continue to improve on their skills and gain experience, I am hoping they begin to see themselves as contenders."
Tigers value experience
Stratford veteran bead volleyball coach Brooke Kafka is fortunate to have a senior-laden squad this season that's attempting to win its fourth straight Marawood Conference championship.
The team got off to a good start to achieving its goal of capturing another conference title by beating nemesis Wausau Newman, 3-0, on Tuesday night at home.
"Winning a conference championship is definitely a goal of our team, but like in years past, we always start small," Kafka said. "We will focus on one game at a time and work towards improving each practice."
Kafka has begun her 10th season as Stratford's head varsity volleyball coach. Rachel Wussow is coaching the school's JV1 volleyball team and Jenny Wussow the JV2 squad.
Stratford returns a bevy of experienced senior volleyball players this season including setter and rightside hitter Lauryn Nagel, leftside hitters Mikayla Guldan and Tanaya Schillinger, setter Abbygail Oertel and middle hitter Breanna Ackley.
"We have several returning players that I expect to lead our team and I am excited to see some newcomers fill in and complete our team," Kafka said. "With all other uncertainties this season, I am confident this group of girls will make the most of their season regardless of what the post season looks like this year."