Posted on
L-G and Spencer runners see each other at two meets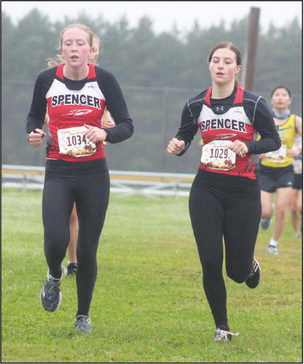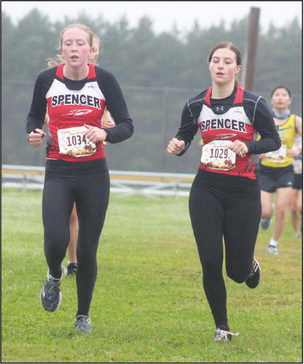 The Loyal-Greenwood and Spencer cross country teams competed in a pair of triangular meets against each other this past week. The teams first faced off against each other at Frey Field on Sept. 8 before facing each other again at Colby on Sept. 12.
At the meet held at Frey Field, the Greyhounds and Rockets also competed against the Neillsville-Granton Warriors, with all the schools fielding full teams. In the boys race, Loyal-Greenwood was led by the back-to-back finishes by Avrey Horvath (17:48) and Connor Genteman (18:33), who placed third and fourth, respectively. They were followed by another pair of Greyhound runners a few minutes later. Ashton Palms ran a 21:03 for ninth and Cody Eckes placed 10th with his time of 21:39.
Also placing for the Greyhounds in the 21-runner field were Seth Genteman, who ran a 23:01 for 13th; Jaden Ruggles, who placed 14th with a time of 23:38; and Vaughn Zettler, who ran a 24:50 to place 17th.
The Loyal-Greenwood girls had a slightly smaller field of runners to compete against. Finishing at the top of the 18-runner field was Savannah Schley, who crossed the finish line in 21:01. She was followed by a fourth-place finish by Rylan Lindner (23:44); Leah Scherer, who ran a 25:18 for eighth; and Aubre Robida, who placed ninth with a time of 26:39. Halle Aumann placed 10th with a time of 26:30 and Maci Bogdonovich ran a 26:41 for 11th.
For Spencer, the boys were led by Cameron Nieman, who crossed the finish line in 20:50 to place eighth. Malachai Anderson was the second Rocket to finish, completing the course in 21:43 for 11th. Taking 12th was Noah Schultz, who ran a 22:10, and Kaizer Eickleberry placed 15th with a time of 23:39. Also running for the Spencer boys were Caleb Rucker (16th, 24:15), Austyn Kohls (18th, 24:52) and Andrew Sieracki (19th, 25:24).
Five girls made up the Spencer girls team. Finishing first for the team was Emily Wehrman, who placed fifth with a time of 23:51. Leah Zastrow followed with a seventh place finish in 25:03. Haylee Hopperdietzel placed 12th with a time of 27:27, Alizabelle Carman was 13th with a time of 27:35, and Faith Miller ran a 29:18 to take 14th.
At the Sept. 8 meet, the Spencer boys placed third with 62 points. Loyal-Greenwood was second with 39 points and Neillsville-Granton took first place with 21 points. For the girls, Spencer was third with 51 points, Neillsville-Granton took second with 42 points and Loyal-Greenwood was first with 32 points.
Sept. 12 Colby meet
Four days after competing at Frey Field, the Loyal-Greenwood and Spencer athletes saw each other again at a triangular meet against Colby-Abbotsford. Competing in a 19-runner field, the Loyal-Greenwood girls had another solid showing.
Savannah Schley placed first at the meet, running a 21:32, with teammate Rylan Lindner taking fifth with a time of 24:12. Leah Scherer placed eighth in the field of
CHEYENNE THOMAS/STAFF PHOTOS 19 runners with a time of 25:45, Aubre Robida was 12th with her 27:24 finishing time, and Maci Bogdonovich ran a 27:45 for 14th.
For the Greyhound boys, Avrey Horvath ran a 19:01 to take second place in the 20-runner field. He was closely followed by Connor Genteman, who placed after him in third place with his 19:10 time. Ashton Palms was the third runner to finish for Loyal-Greenwood, taking seventh with a time of 20:56. Seth Genteman came through right at the 21-minute mark, placing eighth. Also running for the Greyhounds were Cody Eckes (11th, 21:28), Jaden Ruggles (16th, 23:20) and Vaughn Zettler (19th, 25:19).
The Spencer boys had five of its members compete at Colby. Cameron Nieman was the first of them to finish, running a 21:15 for 10th. Malachai Anderson was next, coming through at the 22:18 mark to take 13th. Noah Schultz placed immediately after him in 14th with his time of 22:56 along with Caleb Rucker, who ran a 22:58 for 15th. Andrew Sieracki also ran for Spencer, taking 20th with a time of 26:28.
With only four girls running for Spencer, they were not able to score as a team. Individually, Leah Zastrow was the first Rocket to cross the finish line, placing seventh with her time of 25:32. She was followed by an 11th place finish by Emily Wehrman. Haylee Hopperdietzel took 16th with a time of 28:31 and Faith Miller completed the race in 29:08, which was good enough for 18th.
With the Spencer girls fielding an incomplete team, the Loyal-Greenwood girls placed second with 35 points and Colby-Abbotsford won the meet with 23 points. For the boys teams, Spencer took third with 71 points, Loyal-Greenwood placed second with 31 points and Colby-Abbotsford was first with 25 points.