Posted on
Nothing short of a-maize-ing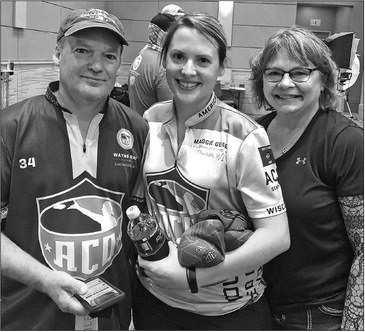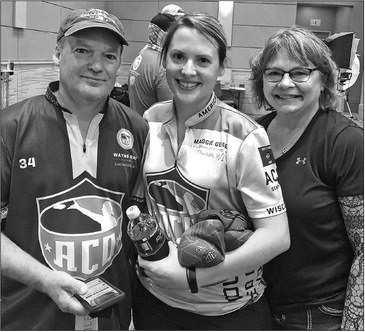 There are roughly 900 inhabitants who call Dorchester home, and while it will never be confused for a bustling metropolis, it can at least say that a world champion is proud to call it home.
Maggie Geiger may have just become Dorchester's most famous resident after winning Womens Singles, Womens Doubles and Woman of the Season at the American Cornhole Organization (ACO) Season 15 World Championships last weekend in Columbia, South Carolina.
The clean sweep is still something that Geiger, who remains quiet and unassuming, is trying to wrap her head around.
"It feels pretty great," Maggie says with a wide smile. "I mean, who around here thinks you could be a world champion in something?"
In the days since she became a world champion, Maggie says people recognize her and even go out of their way to congratulate her. "It's still unreal to me, and I'm at a loss for words," Geiger says with her typical humble demeanor. "It just feels great to show people you can do something special and be from a small town like Dorchester."
A huge step forward
Geiger's victory might come as a surprise to many, but she has been quietly building a reputation on the ACO pro circuit for some time. Her reputation got an even bigger boost a year ago when she and her father, Wayne Rau, also of Dorchester, played in the ACO World Championships Season 14 in Las Vegas, where they competed in the ACO Co-Ed World's Doubles championship match.
They came into the tournament as something of a dark horse, and Geiger describes their run to the final as a bit of a fluke - neither she nor her father ever expected to get that far, or that their hobby would take them all across the country and to places unknown.
A lot has changed in the year since Wayne and Maggie each burst onto the scene of the professional cornhole. It's become one of the fastest growing sports in the country. There's also more sponsorship, money and media attention.
A lot has changed for Gieger as well, who isn't just admired, but now also seen as a top target by other women looking to make a name in the game. Not that Maggie is concerned. She knows what she can do, has proven she has the goods. It's up to her opponents to do the same.
"I did have women say that they were coming after me in South Carolina, but I think just because I have that mindset of 'it is what it is' I didn't feel that added pressure that it was expected out of me," Geiger said. "I just tried to go out there and take care of what I could on my end."
When Maggie arrived at the Columbia Metropolitan Convention Center on July 22, she was armed with a champion's mentality, and the experience and knowledge that she belonged on the big stage.
"I felt like this was my time to shine," Geiger said in an exclusive interview with the Tribune-Phonograph. "I showed that I could get to the main stage last year, and I got my nerves worked out last year. This year I knew what to expect, and then I just worked on it from there."
A bump in the road
Season 15 of the ACO pro circuit featured anewwrinkle-playingwithmasks, and while Geiger said it was "horrible" that was the least of her worries.
DuetoCOVID-19,Geigerhadnotplayed in nearly as many tournaments as she had hoped. There was a small tournament in her hometown of Dorchester in the middle of June, but leading up to the Season 15 ACO World Championships, Maggie had not played a single match.
Her path to the world championships took another big hit when she broke her toe and bruised her sternum just weeks before the competition.
"Every time I moved my arm it hurt," Maggie revealed. "So when I was going to practice with dad, I couldn't. I had to hold off until the week before and just wait and take it day by day."
Thankfully, by the time she and her father arrived in Columbia, South Carolina, the pain was mostly gone - though Geiger did admit ibuprofen and Icy Hot "were my friends all weekend long and stayed close to me."
With so many obstacles to overcome, it would have been easy for Geiger to have had a bad day, maybe understandable and even expected. But if her rivals had any hope of an upset, Geiger coolly and calmly put those to bed.
"I guess the whole time I had the attitude of whatever happens, happens. I just stayed relaxed and calm throughout it all. I never let my nerves get the best of me because I've seen some very top players just struggle because their nerves got the best of them."
Thrice is nice
Once she was on the floor, Geiger blazed through her competition. In the singles final she went up against Megan Maupin of Tennessee, this year's fourth place finisher in the ACO Women's Division. The two had never played each other before, but Maggie knew Maupin was very successful, and had won a lot.
Maggie had watched her play, and Maupin said that she had seen Maggie play as well, perhaps in an attempt to psych Geiger out and take her off her game.
It didn't work. Geiger played with machine like precision, relying on her experience, while Maupin struggled to find a rhythm in the first two sets. In just a matter of minutes, Geiger had raced out to a two sets lead, 21-5 and 21-6.
"Experience I think made a world of a difference. You know how to handle yourself better mentally in these positions and you know how to keep your own mind from beating you," Geiger said. "The more experience you have, the more you learn, and the more you can take with you into the next match."
By the third set Maupin had settled into a groove, but Geiger refused to give her any sort of momentum, taking another early lead. Maupin came within one point, but Maggie slammed the door shut, and closed out the match, winning the third set 21-11, to secure her first ever world championship title.
Women's Doubles and Woman of the Season titles soon followed. Once again, the games were not even close as Geiger's deft touch saw the bags fall into the hole time and time again.
"Everyone was excited and happy for me," Geiger said after the tournament. "I think everyone is kind of in the same state of mind as me - it's kind of unbelievable that someone from Dorchester, Wisconsin, can put us on the map."
Hungry for more
"The sport is growing. There's more sponsorship, more viewership, more cameras and better payouts," Geiger said about the sport's future. "It's just getting better all the way around."
It's not just the sport of cornhole that is growing either. Geiger's fame is also on the rise, and she acknowledges that in many ways she can help grow the sport and become one of its leading figures. It's a responsibility that she's ready for.
"I would like a repeat, I would like to try and max out on points again to win Womens Singles. I want to win Co-Ed with my dad, and try to win Player of the Season, but mostly it's all about improving and try to keep moving forward."
Maggie is excited to show others, especially those from Small Town, U.S.A. that they can be successful on the biggest stage no matter where they come from.
"I'm excited [about the future] and I've already had a few women tell me that I inspired them, which is always fun to hear, but also very surprising," Geiger admits.
"I hope I can show others that I started playing small tournaments, and now this is where I am. I came from Dorchester and now I'm a world champion."