Posted on
Kilty's Olympic plans altered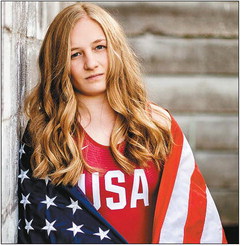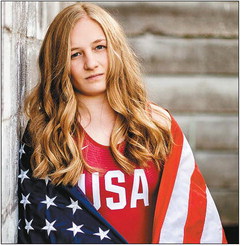 She'll now train to wrestle in the 2021 summer tilt
By Casey Krautkramer
Macey Kilty of Stratford was training hard at the Olympic Training Center (OTC) in Colorado Springs, Co., to wrestle in the United States Olympic Team Trials, which was supposed to occur in April but it was canceled because of the coronavirus pandemic.
She was confident she would've won first place at the Olympic Team Trials at Penn State University to qualify for a spot on the United States women's freestyle wrestling team that would've competed in this summer's Olympic Games in Tokyo, Japan. The Olympics have now been postponed until next summer.
"I am sure I would've won first place at the Olympic Team Trials to qualify for the Olympics this summer in Japan," she said on Tuesday.
Macey qualified for the United States Olympic Team Trials this year by winning a silver medal at the Junior World Championships in Tallin, Estonia in 2019.
Now 19, Kilty was forced to leave the OTC in March and travel home to her parent's house in the town of Eau Pleine outside of Stratford. Here she's been trying the best she can to stay in wrestling shape by going for runs, jumping rope and lifting weights in her basement and wrestling on a friend's mat.
She said it was "a relief" to find out the Olympic games are postponed to next summer, considering she and the other USA women's freestyle wrestlers haven't been able to train as well as they'd like to since they left the OTC.
"Now I have an entire year yet to become a better wrestler so I can qualify for the Olympics next summer," she said.
Kilty described her usual day at the OTC begins with wrestling practice at 9 a.m. followed by lunch.
After lunch, the wrestlers can receive sports medicine treatment or a massage before they decide to either attend wrestling practice or lift weights at 3 p.m.
Wrestlers can also run laps in the OTC after they are finished with wrestling practice or lifting weights.
Macey and the other wrestlers then eat supper, and afterward she conducts her college online studies at DeVry University, where she hasn't yet chosen a college major.
Right now is the longest she's been at her parent's home in rural Stratford since she was a sophomore taking virtual learning classes at Stratford High School while she wrestled in tournaments throughout the world. She is enjoying her time spent at home with her parents, Pat and Keresa, and her brothers, Easton and Koehler.
Macey doesn't know when she'll be allowed back at the OTC, but she's anxious for her daily wrestling training schedule to return back to normal.