Posted on
Outdoorsman's Journal-,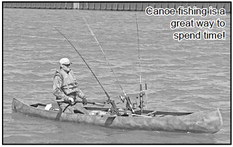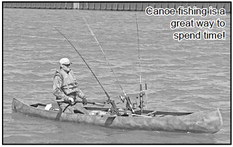 An Outdoorsman's Journal-,
By Mark Walters
Lake Michigan for Coho/The 360 Degree Wind
Hello friends, Here is the scenario. I am in a turkey blind, my computer is set up on a chair and I am hen pecking this week's column to you while I hunt turkey, which is the fieldwork for next week's column.
Sunday, April 19 • High 52, Low 30
I am driving to Milwaukee, with a canoe on top of a truck that is about to hit 300,000 miles. I am going to paddle that canoe in Lake Michigan and catch a salmon, tonight I am going to sleep in The Chevy Hotel and the next day, I will repeat the process and if I still have a heart beat, I will drive home.
When I left home, there was a chilly west wind blowing and it was forecast over the next 24 hours, to go from west to north, to east to south, and back to west. My extremely brilliant plan, was to have the dangerous part of the wind blowing when I was resting in the wonderful accommodations of The Chevy Hotel.
As I am driving in the Milwaukee area, I noticed two things: one was I simply do not fit in here and the other was that the wind was now blowing out of the north; no problem, I am Mark Walters and I can do anything.
My destination is Bender Park, which is near the Oak Creek Power Plant, and my informants have told me I could fill my canoe with coho, browns and maybe even a king salmon. Looking at the waves that were pushed by what was now a northeast wind, I was thinking the only thing I could fill my canoe with, was water.
Just a week ago, I fell out of this canoe and into the Menominee River while netting a fish. Did you ever see a gun shy dog when you pull a gun out and it sees it? I kind of have that problem since my recent baptism!
So, I talk to three very wise fishermen who are trailering their boat; they tell me they were the last boat on the water and they were in a 22-foot Boston Whaler. I am told it is impossible to fish with the northeast wind.
I have a brainstorm. I call my good friends, Paul and Christine Johnson, who live in Kenosha. I have never been to Kenosha. Paul tells me he thinks I could fish the harbor. I drive to Kenosha, and am pleasantly surprised. For a city, it is very clean, quiet, and has lots of walkers and shore fishermen.
I begin the job of rigging my 17-foot canoe and talk with many shore fishermen. Brown trout is king in the spring and one fella I spoke with, caught a 26-pounder two days earlier.
I am working out of Simmons Island Marina and pulling three rigs. One has a dodger/fly combo and is on a right planer board. Another has a Flicker Shad and is straight back, and the third has a spoon and is on a left board. I work this maybe 1.5 mile area, and keep trying to paddle into the big lake, but the waves beat me back every time. No fish today!
Monday, April 20 • High 57, Low 29
I hid my canoe in the marina and hid in my truck, and the only folks that almost found me, were three homeless guys.
I was up at 3:45 a.m. this morning, and would use every type of light I have, so boats with motors would not eat me in the dark. At 4:30 a.m., I am literally paddling out to sea and in this case, we are talking Lake Michigan.
Naturally, there is adversity and in this case, it is rollers from the east wind hitting my canoe and a now southwest wind. My canoe is beaten around like a feather in a solid wind, and I am having a hard time paddling fast enough to move my lures at an appropriate speed.
I am straddling a small cooler and sitting on my knees. This method guarantees loss of circulation from the neck down and lots of cramping.
The wind has switched to the west and is blowing right down the harbor, and is forecast to pick up big time any moment. I hear a woman yell out from shore, "I thought that was you." It is Christine, and about the same time, I get either a snag or a hit, and it is a fish. I am in disbelief. I catch the fish and now I know I am invincible. I caught a coho out of my canoe.
I make the extremely wise decision to paddle a mile south on Lake Michigan in a growing wind. No one knows the misery I am in; to anyone watching I looked like one tough dude fighting big waves.
By the time I got out of the crazy stuff, my arms were each two inches longer and I was fully aware I have some form of mental health problem. Got my salmon! Sunset