Posted on
Rau calls it a career as coach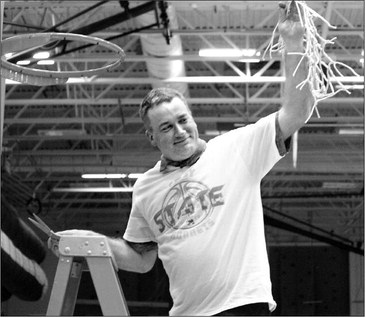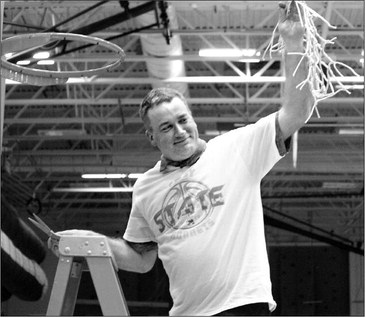 It's a late November day in 2005 and Randy Rau steps onto the court of the Dick Gunderson Memorial Gymnasium, a whistle in one hand and a basketball in the other.
The court is achingly familiar to him - he grew up playing in this very gymnasium years ago. This place is his alma mater, and this court is almost a second home to him.
He's recently become the Colby girls head basketball coach and he has his work cut out for him. The year before the Colby Hornets girls basketball team had finished with a 2-19 record, rock bottom of the Eastern Cloverbelt Conference.
But Randy Rau has never shied away from a hard task, and he welcomes the challenge of coaching and rebuilding a program. Above all, he enjoys nurturing a love of basketball in his players.
It was for that reason, after coaching for two years at Athens, that Rau decided to take the heading coaching job in 2005. And in that first year at Colby, he knew exactly what he needed to do.
"I think the first thing that ended up needing to be accomplished, win or lose, we were gonna work, and we were gonna work as hard as anybody," Rau said, thinking back to his first season. "That was the thing that I stressed the most when we first started, was competing."
For nearly two decades Rau typically got the better of his rivals, racking up multiple winning seasons. Conference and regional titles came later, and a team that had witnessed precious little success before he took over has since become a respected and feared program.
But after 15 years, Rau has decided to hang up the whistle, content with what he has helped Colby achieve.
"I don't know if I can say that I accomplished everything that I wanted, but yet at the same time I was at peace with where I was," Rau said. "There was just something about it this time that it was just like, you know, it's 15 years, I think that's a good number to walk out on."
Rau is a humble man, and he deflects praise, but he leaves Colby as the most successful coach in program history. Of course, in his first season, no one had any clue what Rau's legacy would be.
In his first season Colby finished with a 4-15 record. The following year Colby went 8-13, but the year after that, the Hornets enjoyed a winning season.
It was clear to see that all the hard work on the court was paying off. Within four years Rau and the Hornets notched back to back winning seasons, and a team that had finished at the bottom of the conference was suddenly in third place in after the 2008-09 season.
''We've had a share of success," Rau says about his tenure. "We haven't always won conference by any means, but you know, after the first couple of years we've been consistently in the top three and four, battling things out."
As the years went by, older players paved the way for new players, with Rau's daughter Kati, instrumental in laying the groundwork for Colby girls basketball to flourish. "That was a privilege, being able to coach my own daughter. Any coach would love to have that opportunity. That was great," Rau said. "Once things got going the kids came in and the older kids taught the younger kids how hard they'd have to work. It made my job a lot easier. As freshmen came in, they saw what the upperclassmen did and learned and from there it went pretty good."
With the culture of discipline and hard work firnly entrenched, the 2012-13 season announced Colby's arrival on te big stage. Guided by Sarah Gamillo, Rau's first player to score 1,000 points and play in the NCAA for D-3 UW-Stevens Point, the Hornets went 19-7 and earned their first regional championship.
"Winning our first regional title, that was special," Rau said. "That year Neillsville made it to state, and we made it to the sectional finals. That was probably the first time that we can say we competed with them."
More winning seasons followed, and after 2016 the Hornets were back in a regional championship game. Colby fell just short, but soon something magical was about to happen.
Under Rau's watchful eyes Colby made history and won its first Eastern Cloverbelt title and second regional title in the 2017-18 season.
The following year the Hornets did even more. With a strong senior class, and two players, Ashley Streveler and Hailey Voelker, who are off to the next level, Colby went 25-1.
The 2018-19 season saw the Hornets earn back to back conference titles, a third regional title. Then in March of 2019 Colby made more history, earning a first ever sectional championship and a ticket to the state tournament.
It was the culmination of years of work, and though Rau had hoped Colby could win the state title, the success filled him a sense of accomplishment.
"A state title would have been great, but I think the two conference championships mean as much as anything, because you did something everybody sees," Rau said, as he reflected on Colby's recent success.
"This conference consistently has somebody that is battling for a spot in state. So, to win not only once, but back to back conference titles was huge for me and huge for the girls and the program and the community, as far as being able to say we made it."
The success, titles, and wins gives Rau a lasting legacy. But that all comes second to what Rau could give to his community. For him, the game was about the lessons he could teach and the pride people could take in coming from Colby.
"It was never about winning," Rau said. "Winning is a bonus, but competing hard and doing things right, that was the thing that I stressed at the beginning.
"As time went by, and girls put more time into it, Colby girls basketball started to get to a point where it was good to be associated with Colby girls basketball versus 'Well, they lose.'" As he hangs up his whistle, Rau refl ects not only on his tenure and the titles but on how he shaped young lives, and what a privilege that was.
"I think I tried to show as much care for every player as if they were my own kid and I think the parents could see that and respected that," Rau said.
As Rau leaves the Colby girls basketball program, he remains humble. As much as he's proud of his time as head coach, it's not the winning he'll miss the most, but rather the entire experience.
"I'll miss the kids the most. That's always fun, the practices, the laughing over something, even getting smushed with a cupcake," Rau said. "The memories, there's so many of them."
Rau also thanked each and every parent, player and fan that came out and supported the program over the years that helped make Colby what it is now.
"It was a blessing that I was able to coach at my alma mater, and the place where my kids go to school. It was a blessing to have all the support that I did over the years and to see the support grow more and more each year."
As he looks back on the past 15 years, Rau says he is so grateful to be part of so many lives and so many great moments.
"It was a privilege to coach for my alma mater, and a privilege to have some success and to make a difference in some kid's life. To make some memories, whether it's mine or the community's or the girls, that was special."