Posted on
Marathon boasts talented squad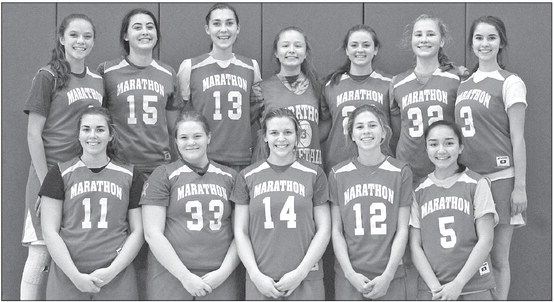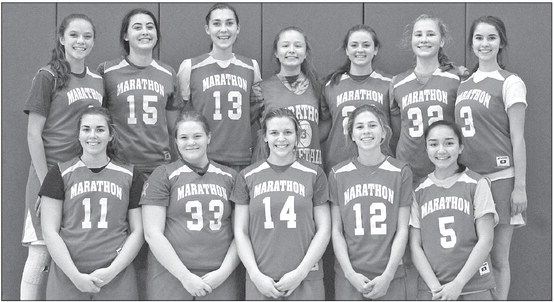 GIRLS BASKETBALL SPORTS PREVIEW
Schneider back for his 15th year as team's coach
Marathon girls varsity basketball coach Jeff Schneider returns his entire starting lineup this season, so he's hoping all this experience would allow the Red Raiders to compete for the Marawood South Conference championship this season.
Schneider begins his 15th season as Marathon's head girl's basketball coach and his assistant coaches are Hannah Schmitt, Beth Geier, Hayley Cramer, Nicole Myszka and Chuck Baldeshwiler.
The team's top returning players are senior guards Elizabeth Boehm and Kylie Blume, senior forward Bradyn Free, junior forwards Anna Cleven and Hope Krautkramer and sophomore guard Allison Wokatsch.
Marathon's top newcomers to the varsity squad who should see some playing time are senior guard Sierra Gage, senior guard/forward Marguerite Stoffel, junior guard Chen Phakitthong, junior guard/ forward Kaitlyn Rusch and sophomore guards Jenna Ashbrenner and Jada Prihoda.
The Red Raiders normally have a winning record every season, but last year the team finished its season with an uncharacteristic 4-16 record. Schneider believes the wins will come within time.
"We are not focused on winning and losing; our goals are centered on playing good basketball offensively, defensively and in transition," he said. "This team has shown some excellent chemistry already this season and we will have a lot of fun playing together. We feel that if we focus on team chemistry, giving our best effort and focus everyday, and personal and team improvement, then the wins and losses will take care of itself."
Elizabeth Boehm, one of Marathon's top players, is the daughter of former Mount Scenario college men's basketball player Brian Boehm.
"Elizabeth is a phenomenal athlete and basketball player," Schneider said. "She is so good on defense with her quick hands and the ability to guard much taller play- ers. Offensively, she is an excellent shooter and has shown she can put it on the floor to get to the rim or create for her teammates. She has definitely inherited some talent but you would not know it by talking to Elizabeth or Brian because they are two of the most humble people I know."
Schneider described the strengths his other top players possess.
"Kyli Blume is another really solid ball handler and scorer at guard for us," he said. "She has excellent quickness on both ends of the court and I feel she will get in the paint and score or assist a lot this season. Bradyn Free returns at the forward position and she has tremendous offensive abilities to score with her back to the basket, and she will also face up and use her dribble to get to the rim. Bradyn's shooting skills will show greatly this year because she has worked hard on her shot and can shoot it from anywhere.
"Allison Wokatsch had a tremendous freshman season and we expect even more good things from her this year. She has a fantastic pull up game off the dribble and she has really worked hard to improve herself from three-point range. Anna Cleven has worked extremely hard to improve her game and we will see the benefits of it this season with her ability to shoot the ball and take it to the rim. Hope Krautkramer is one of our best rebounders and she has improved her finishing and shooting ability. We are expecting great things from her this year during her junior season."
Schneider said the Marawood South Conference will be "as tough as ever" this season, so his team has its work cut out for it to win the conference title.