Posted on
Wildcats manhandle Pirates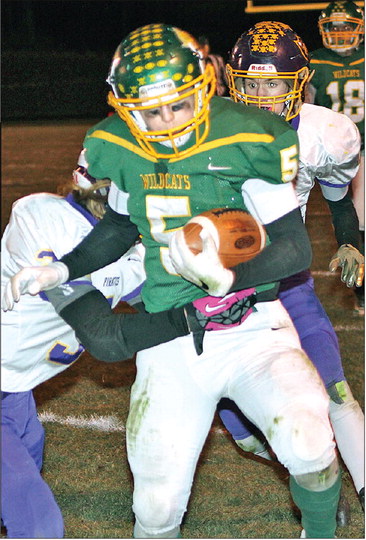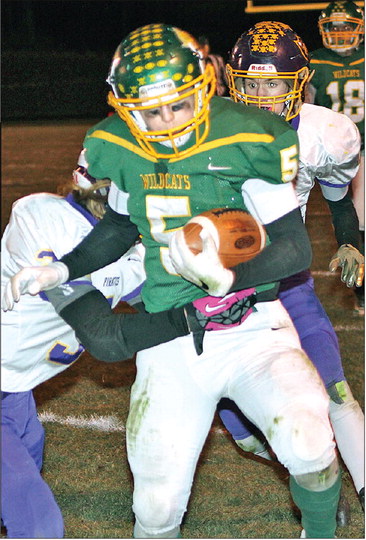 'Cats 51 players outmatch the Pirates' 18 boys
By Casey Krautkramer
Edgar senior running back Kaleb Hafferman was determined to reach the end zone as quickly as possible in leading his team to a 47-0 playoff win against Gilman on Friday, amid below freezing temperatures, one posng f t n d za-he rn ne so he could return to the sideline and warm up in front of a portable heater.
"This field was very cold and it was hard to get traction, so I just ran as hard as I could straight up the middle." Kaleb Hafferman
Edgar senior
Hafferman toted a rock hard frozen football 11 times for 63 yards and three short touchdowns already before halftime of the WIAA Division 7 Level 3 football home game. He was decisive in where he was running with the ball, realizing it was too cold to dance around in the backfield.
"This field was very cold and it was very hard to get traction, so I just ran as hard as I could straight up the middle," Hafferman said, while sporting a perm haircut for team unity.
His aunt, Kari Butt, is one of the Edgar football team's hairdressers and she gave Hafferman his perm for the playoffs. He said the original plan was for the players to get Mohawk or mullet haircuts, until a few players walked into a Sunday film study with perms, so many of the others followed suit.
"I would like to say every player on our team has the same haircut but some of them are rocking the bowl cut," Hafferman said, as a group of linemen passed by him on the field after Friday's game.
Edgar head coach Jerry Sinz kicked a frozen football at practice last week before Friday's game, but the football didn't go very far.
"The football was so damn hard that I could hardly kick it," he admitted.
Sinz said the cold temperature helped his squad, because it has a deep bench allowing the coaching staff to substitute players in and out of the game so they can stay warm.
"Gilman's team is well coached and they play hard, but they were short on the number of football players they have, so it's hard to play with 18 guys when it's cold and they need to play both ways," Sinz said. "Our team, of course, has 51 players, so it's a tough deal for Gilman, but I commend them because they won seven games in a row coming into this game and they played hard against us, but a frozen field is hard on a person's body."
The Pirates will transition from playing 11-man to eight-man football next season.
Edgar's defense limited Gilman to a meager 43 yards of total offense on Friday. Junior linebacker Austin Dahlke led the Wildcats with 24 defensive points tallied. He collected three tackles for loss, one quarterback hurry, a recovered fumble and a 12-yard interception return. Senior defensive tackle Ethan Heil racked up 22 defensive points including four tackles for loss, one quarterback hurry and a sack. Senior defensive back Caden Higgins had a 21-yard interception return.
Adam Hanneman, an Edgar senior defensive end who caused a fumble against Gilman, said his team's defense doesn't always get the respect it deserves. The Wildcats have posted two straight playoff shutouts against Hurley and now Gilman.
"It feels great to shut out Gilman," Hanneman said. "We just play hard together and everyone on our defense does their jobs."
Edgar's game plan script was to have junior starting quarterback Konnor Wolf pass the ball 10 out of the game's first 20 plays. The game script might not have played out to perfection, but Wolf was definitely slinging the ball a few more times than he's done in the majority of games this season.
Wolf completed six of 11 passes in the game for 127 yards, an interception and two touchdowns. He matched his game high for passes attempted this season against Marathon on Sept. 27. Wolf averaged seven-and-a-half passing attempts per game this season before playing Gilman on Friday. Sinz felt the team needed to pass a little more against the Pirates to open up the running game.
"We plan on throwing the ball a few more times every week but some weeks it just doesn't work out that way," he said. "Gilman normally has 11 guys close to the line of scrimmage most of the time, so we wanted to pass the ball more to loosen them up."
Wolf welcomed back this top deep threat, junior slot end Drew Guden, after Guden had been sidelined five games with an ankle injury he sustained prior to the team's game against Stratford this season. Guden hauled in two catches for 54 yards. Austin Dahlke paced the Wildcats with three receptions for 63 yards and a pair of touchdown passes.
Hafferman finished the game with 13 rushing attempts for 79 yards. Junior Kyle Brewster and sophomore Ayden Weisenberger scored the team's rushing touchdowns in the second half against Gilman.
Wildcats senior Austin Miller was busy kicking off the ball to the Pirates after the Wildcats scored touchdowns. Miller had eight kickoffs for 405 yards, which is an average of 40-and-a-half yards per kick.
Edgar improves to 11-1 this season and it now plays undefeated Bangor at 7 p.m. this Friday, Nov. 15, in a Division 7 Level 4 game at Carson Park in Eau Claire.
The winner of Friday's game will advance to the state championship on Thursday, Nov. 21, against this Friday's other state semifinal winner between Black Hawk/Warren, Ill. and Oshkosh Lourdes Academy in Middleton. Edgar's coaches and players would love to have a rematch against Black Hawk in the state title game this season.
First Edgar needs to beat Bangor, which history suggests won't be an easy task. The Wildcats lost to the Cardinals, 16-8, in a turnover-filled Division 7 Level 3 game in Edgar during the 2017 football season.
Edgar did snap Bangor's 26-game winning streak with a 29-6 Level 4 victory at Carson Park during the 2016 season, which catapulted the Wildcats to a 36-6 win against Shullsburg in the state championship.