Posted on
Tigers record 11th shutout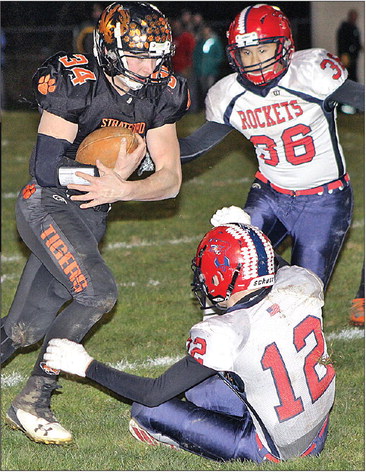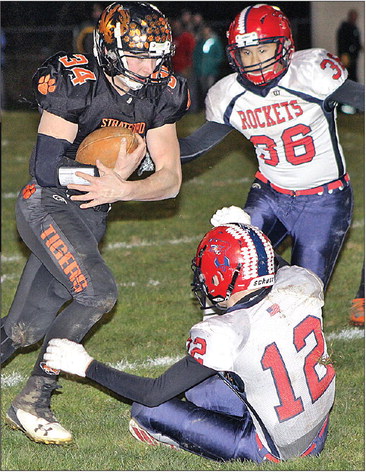 Defense is still dominating in the D-5 playoffs
By Casey Krautkramer
Stratford's football team tied the state record for having the most shutouts in a season, 11, following its 51-0 win against Spencer/Columbus son, nst ae ari- 19 in a WIAA Division 5 Level 2 playoff game at Tigers Stadium on Friday.
The 2019 Stratford squad joins the 1981 Cashton, 2000 Sheboygan Falls, 2009 Edgar and 2013 Shiocton football teams with posting the most shutouts in state history. Stratford will attempt to become the first football team in Wisconsin history to achieve 12 shutouts when it plays against
"Everyone knows how essential each person is on this team. Together we are like a puzzle, and we got all the puzzle pieces together in the right spots."
Teddy Redman
Stratford senior
Northwestern in Maple this Friday, Oct. 8, in a Level 3 playoff game. It'll be a battle between Tigers' teams with 11-0 records this season.
Stratford is also still chasing the state record for most consecutive shutouts in a season, 13, between the 198081 seasons. The 1981 Cashton football team also holds the state record for giving up the fewest total points in a season, 3, during its 12 games. Stratford's first state championship team in 1986 holds the school record for only surrendering 13 points in 12 games that season.
Senior Teddy Redman scored Stratford's first two scores against Spencer/ Columbus, consisting of 39 and 58-yard touchdown runs, in the first quarter of Friday's playoff game. Redman, while playing cornerback on defense, did surrender a big play to the Rockets' offense during a pivotal drive before halftime.
Spencer/Columbus marched the ball down to Stratford's 22-yard line, before Tigers senior free safety Max Schwabe intercepted Rockets junior quarterback Gage Stratman's pass in the end zone for a touchback. Stratford's offense took possession of the ball at the 20-yard line with 34 seconds left before halftime.
"I gave up my first play on defense, but my teammates were there to pick me up and we got an interception in the end zone, which was very special to us because that's the closest any team has gotten to scoring against us this season," Redman said, while also mentioning it was a memorable week because his mother, Julie, also celebrated her 51st birthday last Wednesday.
Stratford's defense limited Spencer/ Columbus to only 114 yards of total offense. Redman explains the key to why his team's defense hasn't given up any points 11 games into this season.
"Everyone knows how essential each person is on this team, and together we put it all together like a puzzle," he said. "We had all the puzzle pieces in the right spot."
The Tigers racked up 427 yards of total offense in its 51-0 playoff win against the Rockets.
Stratford's offense wasn't able to break the state record for most points scored during a nine-game regular season, which the 2016 Darlington football team still holds with 533 points, which is an average of 59.2 points scored each game. Stratford amassed 481 points, for an average of 53.4 points per game scored during the regular season.
Chasing scoring records
The Tigers are still in line to break the state record for the most points scored in a 14-game season, including the playoffs, should Stratford continue averaging 57 points in each of its playoff games while winning the Division 5 state championship this season.
Stratford has scored 114 total points in its first two playoff games against Spooner and Spencer/Columbus. The 2015 Amherst football team currently holds the state record for the most points scored in a 14-game season with 736, which is an average of 52.67 points per game. The 2005 Stratford squad holds the school record by scoring 655 points, for an average of 46.79 points each game. This year's Stratford football team has scored a total of 595 points, for an average of 54 points per game, during its 11 games this season.
Max Schwabe completed six of nine passes with one touchdown to senior Chase Flink, and Schwabe also ran for a short touchdown against Spencer/ Columbus on Friday. Seniors Matt Handrick and Devin Dennee, and junior Beau Gross also scored one touchdown run apiece. Redman led the Tigers with 167 yards rushing.
Kilty family is successful
Pat and Keresa Kilty's family also experienced a great week, with their oldest children Macey and Easton accomplishing big things within a day of each other.
First, Macey won a wrestling silver medal at the U23 Worlds in Budapest, Hungary, on Thursday. Lastly, Easton Kilty is a senior starting defensive lineman on Stratford's dominating defense that held its 11th opponent this season to zero points on Friday.
"It was definitely a special week with Macey winning a silver medal at Worlds and my football teammates and I not giving up any points in our playoff game against Spencer/Columbus," Easton said. He committed last summer to play football for North Dakota next fall.
Pat and Keresa's youngest son, Koehler, is an eighth grader at Stratford Middle School this year.
Wildcats blank Northstars
Edgar's football team shut out Hurley in Friday's WIAA Division 7 Level 2 home playoff game, just like the Wildcats did against the Northstars during the regular season.
The Wildcats won, 42-0, against the Northstars in the playoffs on Friday, by nearly the same result, 40-0, during a Sept. 20 regular-season home game.
Edgar senior Kaleb Hafferman rumbled 11 times for 52 yards and three rushing touchdowns against Hurley on Friday. Junior Austin Dahlke contributed nine rushing attempts for 88 yards and one touchdown, while junior Kyle Brewster added two runs for a total of 75 yards and a score.
Wildcats junior quarterback Kaleb Wolf completed four of nine passes for 131 yards and one touchdown. Wolf connected with senior Mason Stoudt for a 24-yard touchdown reception on fourth down in the second quarter.
Edgar's defense held Hurley to only 106 yards of total offense. Senior linebacker Carson Lemmer led the Wildcats' defense with 12 tackles and a fumble recovery. Edgar, 10-1, faces Gilman, 9-2, in a Level 3 home playoff game this Friday night.