Posted on
Projections showing Division 3 football brackets will be loaded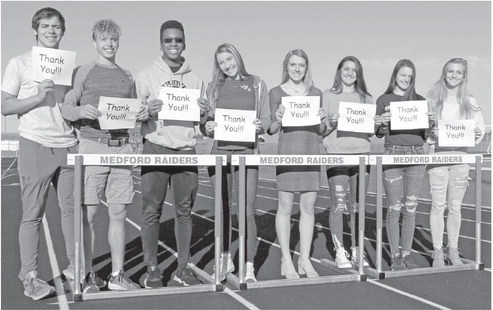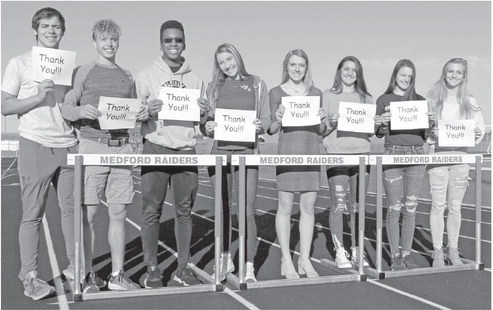 The Medford Raiders' best football season since the early 2000s is about to get even more interesting.
Just a little over a week from the start of the playoffs, the Raiders have all they want going for them. They're undefeated at 8-0. They're 5-0 in the Great Northern Conference and will be the undisputed conference champs if they beat Merrill Friday. In most years, you'd think they should get a high seed and the opportunity to host multiple playoff games, if they take care of business.
This doesn't appear to be one of those "most years."
A year ago, the enrollment range for the 32 WIAA Division 3 playoff teams was 951 at the top (West DePere) and 543 at the bottom (Freedom). This year, those of us who like to make playoff predictions and projections are pretty unanimous in seeing that range bump up significantly. It's also pretty unanimous that all teams with 4-5 conference records and nearly all with 3-4 league records will get in.
The largest Division 3 school this year will, in all likelihood, have an enrollment over 1,000. That means traditional power Ashwaubenon (1,008) is in the mix. Currently undefeated DeForest (1,017) might be in the mix. I have River Falls (1,038) as the smallest Division 2 team in my guesstimate. It wouldn't take much for the likely Big Rivers co-champions to fall to Division 3.
The other likely Big Rivers co-champ, Menomonie (975) will be in Division 3, guaranteed. We all know the tradition the Mustangs have. That being said, Medford's players and coaches felt like they played on even footing with the Mustangs in the pre-season scrimmage.
Onalaska, the team that thumped Medford 49-14 in last year's first round isn't going anywhere at an enrollment of 929. Powerhouse West De Pere was thought to be a Division 2 team. That's where the Phantoms were ranked all year. Nope, at 980 they're probably 99% certain to be in D3.
The bottom end of Division 3 is going to be right around the 600-mark, where Waukesha Catholic Memorial (603), the defending state champion and the division's top-ranked team all year long in the state coaches poll sits. I have the Crusaders as the smallest D3 team. You can bet the Division 4 is praying they stay there.
Just like basketball where Division 2 enrollments range from 600 to 1,200, Medford is going to be stuck on the small end of football's Division 3. That doesn't make a deep run impossible. The route may just look a little different than we thought in early September.
Projecting the eight-team bracket Medford will end up in is a crapshoot. Part of it depends on whether River Falls would fall to Division 3 if a couple big schools around the state pull off upsets Friday and barge their way into the 224-team field. Then it depends on whether the WIAA will stick to it's written policy of trying to evenly disperse conference champions evenly among the four, eight-team groupings. Geography tends to make that tricky.
If I'm going to guess, I'm going to say Medford winds up in a bracket as the lone undisputed champion but with co-champions Menomonie and New Richmond. I'm going to guess Onalaska, which has a share of the Mississippi Valley Conference locked up and could win it outright by beating Holmen Friday, will stay in a southern bracket due to the dispersing of champions. Filling out Medford's bracket could be Sparta, Rhinelander, Lakeland, Hayward and Mosinee.
However, it would take only a minor need for a geographical shift to see teams like Mosinee, Lakeland and Rhinelander shifted eastward. Or teams like Shawano and New London coming this way and Sparta getting shifted south. I had one chicken scratching where I had Medford going east. I don't think that will happen.
To the west, Gilman has no worries about it's divi- sion as the second smallest 11-man program in the state. The Pirates know they're in Division 7.
I always find Division 7 the most difficult division to handicap for the groupings because of geography. Well over half the field is in southern Wisconsin and the majority of that half is in what you'd call the southwest quadrant of the state. It's always interesting to see how the WIAA shifts everyone around.
I would guess Gilman stays in what you might call a northwest bracket. Who the conference champions will be in that grouping is up for debate. My guess is they will be undefeated Bangor and Blair-Taylor, a cochampion out of the Dairyland. Another thing to watch is where will Edgar go? They won't win the Marawood because of Stratford, but you can bet no one in this area wants to play them. At an enrollment figure of 189, Edgar should be safely in D7 by about five or six kids.
Greenwood, Loyal and possibly even Thorp, if the Cardinals beat Greenwood Friday, could be in Gilman's bracket. Augusta, Clear Lake, Hurley, Eleva-Strum, Athens and Turtle Lake also are teams I could envision in the grouping.
Matt's
Bleacher Shots
Matt Frey