Posted on
Chieftains topple Trojans, lose battle to Birchwood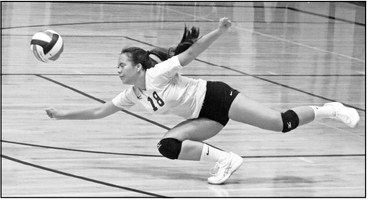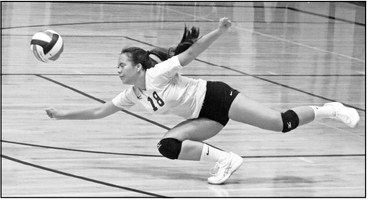 By Ross Pattermann
The Lake Holcombe Chieftains Volleyball squad went 1-1 in a pair of East Lakeland Conference matches last week, falling to league-leading Birchwood on the road, before bouncing back in a match with New Auburn, in which they swept the Trojans in three sets, to improve their conference record to 5-6.
Oct. 8 vs. Birchwood conference (L 1-3)
The Chieftains went toe-to-toe with the Bobcats in a first set that could have gone either way. Lake Holcombe gave little ground and gained the early upper hand, as they took the first set, 27-5.
From there, the Bobcats showcased why they are the best team in the conference, sweeping past the Chieftains in the next three sets, 25-14, 25-13 and 25-15. The scores, however, do not indicate the effort put forth by the Chieftains.
"The girls came out strong against Birchwood and played well," said coach Beth Meddaugh. "Although the scores in the last three sets were low, they worked very hard together as a team and made some great plays. They certainly made Birchwood work for every point that they earned."
Alycia Emmons and Karlee Andres finished with a team high 3 kills, and Josi Elmberg added 2 kills. Allison Golat-Hattamer had another big night, tallying 10 set assists and 10 digs, while Annabelle Wincek added 14 digs.
Oct. 10 vs. New Auburn conference (W 3-0) Lake Holcombe then picked up a confidence-building win, knocking off the New Auburn Trojans in three sets, 25-14, 25-8 and 25-8, in a match were they controlled all facets of the game.
"The girls played very well against New Auburn, who has continued to grow as a team and develop their skills throughout the season," said Meddaugh. "Our girls performed with solid skills, smart game play and strong communication throughout the night."
Leah Allard and Emmons recorded a team high 4 kills each, followed by Elmberg with 3 kills. Emmons added a team high 3 blocks. Hattamer and another good stat line, finishing with a team high 11 assists and 12 digs, while adding 3 aces. Andres had a team 4 aces, while Elmberg and Wincek had 11 and 10 digs respectively.
The Chieftains will round out their regular season this week, then will wait to see where they will be seeded and who they will be matched against, in the first round of the playoffs.
Annabelle Wincek makes an athletic dive on the court for Lake Holcombe, during a match Sept. 26, going up against conference rival Cornell. The Chieftains took the play to four sets, but fell on the road, 3-1.
Photo by Ginna Young