Posted on
A time to give thanks, even if you don't feel like it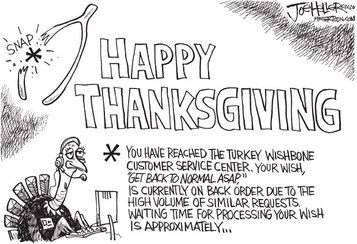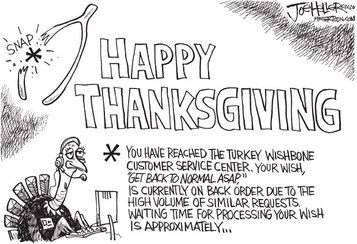 Star News
Editorials
Thanksgiving is traditionally a time for families to come together and recognize their blessings.
It is hard to do that this year.
The country, and world, are rolling under the challenges of dealing with an ongoing pandemic that has already claimed the lives of hundreds of thousands of Americans. Few families have not been touched in some way by COVID-19, either through the inconvenience of a contact-tracing quarantine, suffering its symptoms first-hand, or the untimely loss of a friend or loved one.
COVID-19 aside, the year has also been a challenging one for the country with a divisive election season that continues to linger with uncertainty about if the will of the people will stand or the election will be stolen away. Political rancor on all sides has driven a wedge into America. That wedge must be removed in order for the country to heal.
Economically there is uncertainty. Pandemic and political issues with global supply chains have put the pinch on manufacturers and retailers. In some cases causing months of delay in getting items into the hands of consumers. While the economy continues to grow, it is hard not to feel nervous with so many things unsettled.
Yes, it is a challenge in 2020 to find things for which to be thankful during this holiday dedicated solely to that effort. It is a challenge worthy of being met and overcome.
While family members may be physically separated this holiday due to following the CDC guidelines on avoiding travel, they are still connected in other ways. Proximity has never been a required feature for the bonds of family and friendship to be renewed. This is especially true as technology has opened doors to virtual gatherings and the ability to easily interact with others.
It would be easy to look at the challenges of the past year and forget that despite its setbacks and challenges, the year has been one filled with blessings both big and small.
There are blessings to be found in the laughter of children, in the birdsong that welcomes the dawn of each day, in the harvest-time sunset where the sky is colored with reds and a golden glow. There are blessings to be found in unemployment remaining low and workers being in demand.
There are blessings as people adapt and find new, and sometimes better, ways to hold events and build communities. Every challenge is a time for new traditions to be born and for reinvention.
Thanksgiving is the most reflective and optimistic of holidays. It challenges each of us to think, remember and give thanks for those blessings. In doing so, it serves as a reminder that in the big picture things are never as bleak as they may first appear.