Posted on
New director named to Taylor House shelter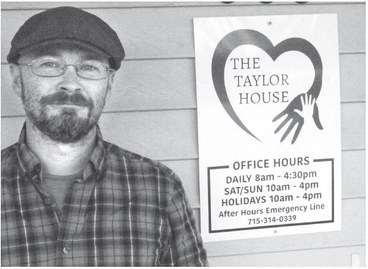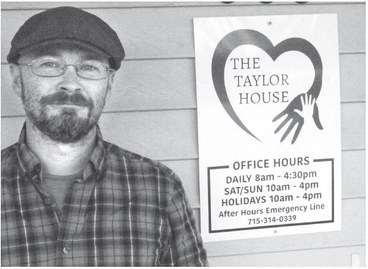 Rib Lake native Coll Fox, 39, recently took over as director of Taylor House in Medford.
While November 21 was his first day with the title of director, he had previously served as the interim director and house manager for the homeless shelter. He said he has had to hit the ground running with the shelter busy not only with residents but with community support during the holiday season.
Fox has had a diverse work background. He served eight years including an overseas deployment with the Wisconsin National Guard, he has both a Bachelors and Master degree in English, worked as an English As a Second Language (ESL) teacher for a period of time, and was a motel manager.
"It is a strange combination that lends itself really well to this job," he said.
He noted his experience as an ESL teacher has been especially helpful recently working with a family that speaks primarily a different language. He said being able to meet people halfway in understanding communication allows him to help get their needs met.
"He has a passion to help our clients," said Jessica Mudgett of Taylor County Supportive Housing, the nonprofit organization that operates the homeless shelter in the county. According to Mudgett, they saw Fox's passion from day one of his working there.
"It is a job that gives me a lot of meaning," Fox said. "Some days are slower and some days are hectic. Whatever I am doing gives me a lot of meaning."
Fox said he goes home at night knowing that he made an actual difference in someone's life that day. He explained that for some of those in the shelter they are at the worst possible spot in their lives and the shelter is there as a safety net to allow them to regroup and get back on their feet.
"I don't think many people realize how close they are to homelessness," he said. According to Fox, people can be working hard and doing everything they possibly can do to get ahead and then something goes wrong, such as a sickness or a death and the bottom drops out.
"We are the safety net," he said, of the shelter's role. He said some are at the shelter for only a short while, needing a month or two to get their life back on track while others may take a little longer.
Taylor House currently has 16 residents and a family waiting list. "We found the need exists more with families," Mudgett said. The shelter has two individual rooms and five family rooms.
She explained that of the residents at the shelter, all have a connection to Taylor County either working here in local jobs, or previously living here.
"We don't have anybody from out of the county," she said.
She said the residents in the shelter are working hard to improve their situation and noted that most of them are gainfully employed. She explained that many things take away from a person's ability to pay rent including such things as medical bills, child support or even car repairs.
Fox explained that he was drawn first to volunteering at the shelter as a place that he felt he could make a difference. He noted that some residents have major issues and helping them the help they need to get back on track is a way he said he can do his part.