Posted on
Top of the class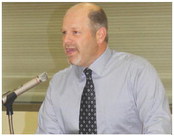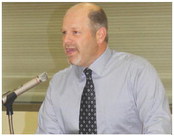 Rib Lake Elementary earns national Blue Ribbon recognition
Emily Gojmerac
Reporter
On Friday September 16, the Rib Lake Elementary School got word that they were picked as one out of 297 schools in the country as a National Blue Ribbon School for 2022.
Rib Lake Elementary was recognized as an Exemplary High-Performing School, which means, they are among Wisconsin's highest performing schools as measured by state assessments or nationally normed tests.
This is not the first time the district was honored with this award. In 2011, Rib Lake High School was recognized as the only school in Wisconsin who was honored with this award, with just one of 24 schools in the nation being recognized at the time.
Rib Lake Elementary School Principal Jon Dallmann spoke on behalf of the United States Secretary of Education, Miguel Cardona when he said "I applaud all the honorees for the 2022 National Blue Ribbon Schools Award for creating vibrant, welcoming, and affirming school communities where See RIB LAKE on page 20 students can learn, grow, reach their potential and achieve their dreams. As our country continues to recover from the pandemic, we know that our future will only be as strong as the education we provide to all of our children. Blue Ribbon Schools have gone above and beyond to keep students healthy and safe while meeting their academic, social, emotional, and mental health needs. These schools show what is possible to make an enduring, positive difference in students' lives."
Dallmann explained to the students that this award is not just a one-year-in-the-making-award. He acknowledged the band members saying that when they were in 5th grade, they set an example that paved the way for future students to live up to. Also applauding the middle school students playing an important role in achieving this award as well.
This is not just any award, this is the highest award that any school can win.
District Administrator Travis Grubbs addressed the students putting this award into perspective by saying "This award is equivalent to the Super Bowl trophy of your favorite football team, or the World Series Championship. This is the grand-slam of awards."
"You can accomplish anything that you set your mind to," Grubbs added.
Grubbs also gave the teachers recognition by saying, "You are literally the best in the nation, you do an awesome job."
Grubbs also addressed the community members who were not present but still got recognized. "Thank you to this great community for all that you do both in school and at home ."
Teachers spoke on behalf of all of the RLES staff as they shared their strategy for academic success which was an intricate part of the application process when it came to applying for this award.
Elementary and middle school counselor, Michelle Komarek said "Every school strives to succeed. Whatever their philosophies or practices, educators look for ways to help their students make measurable progress, not only academically, but socially and emotionally as well. Seeing the abilities and needs of the whole student has become an important focus in our ever-changing world. Successful schools recognize this and employ practices that will assist student growth and achievement with detailed attention to these areas."
Elementary Art teacher/District Librarian Sara Robisch said "At Rib Lake Elementary, one of the most instrumental practices, assisting in our success, is the investment in relationships. Our school and community are very people-focused. From the parents and the families to the staff and the students, every person contributes in a meaningful way to the pursuit of student excellence. Remove any of these entities and the success of the school will diminish."
Pre-K kindergarten teacher Joelle Scheithauer said "Healthy relationships rely on communication. It is no different in a school setting. This is a bedrock to forming a reliable, consistent, and ongoing partnership between home and the classroom. It builds the trust necessary to ensure student success. We have been blessed with an arsenal of volunteers and involved parents for many years. We, as a staff, could not do what we do without this type of support."
Third grade teacher Heather Weik said "Our staff has also seen the value of communication. We rely heavily on our ability to collaborate with coworkers, recognizing strengths and accepting the challenges we each face. We realize that it is beneficial to spend the majority of our time and effort doing what we naturally do well. This means we have learned to ask for help from each other when challenges arise. Through these efforts, we have invested in our relationships, which has consistently helped us maximize our students' achievement and progress toward their goals, even through the recent pandemic years."
Elementary Title 1 teacher Aimee Blomberg said "Lastly, every member of our teaching staff makes it a priority to connect and establish rapport with each student. This may very well be the most challenging and important aspect of our focus on relationships at Rib Lake Elementary. When students feel a connection with their teacher, when a mutual trust exists, and when they know their needs are being met, successful education naturally follows."
Finally first grade teacher Steve Blomberg said "Can one educational practice ensure student success on its own? It is doubtful. However, we can believe that with an emphasis on people and a prioritization of relationships, schools like ours have markedly placed themselves ahead of the status quo and one step closer to the gainful advancement of our students with empowerment for their collective futures, which have been entrusted to us."
A bright future is in store for the Rib Lake School District.