Posted on
Services available locally to assist seniors, disabled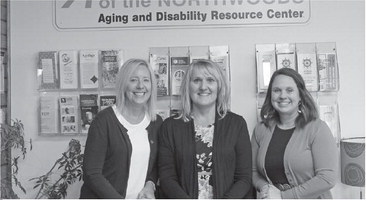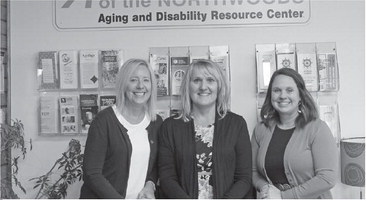 The bad news is getting older brings with it additional challenges, the good news is that you don't have to go far to get connected to the resources and services to help you live a full and active life.
The Aging and Disability Resource Center (ADRC) of the Northwoods is a regional organization with an office located in Medford serving Taylor County, Crandon serving Forest County and serving the Forest County Potawatomi.
The ADRC's mission is to help older people and people with physical or developmental disabilities secure needed services or benefits, live with dignity and security, and achieve maximum independence and quality of life. The goal of the Aging and Disability Resource Center program is to empower individuals to make informed choices and to streamline access to services and supports.
Aging and Disability Resource Centers are welcoming and accessible places where older people and people with disabilitiescanobtaininformation, assistance and advocacy in obtaining services or applying for benefits. They provide a central source of reliable and objective information about a broad range of programs and services to help people understand and evaluate the various options available to them. By enabling people to find resources in their communities and make informed decisions about long-term care, ADRCs help people conserve their personal resources, maintain self-sufficiency and delay or prevent the need for potentially expensive long-term care. ADRCs also serve as the single access point for publicly funded long-term care, including Family Care and IRIS.
"This organization is a great place to start when families don't know where to turn when it comes to their aging family members," said Kari Schraufnagel, an ADRC specialist.
Another ADRC specialist, Kris McMurry, stated that the ADRC is the "first stepping stone when it comes to getting long-term care for your mentally/ physically disabled child or aging loved one."
Also part of the ADRC, the Disability Specialists provide services to people ages 18 to 59 with physical disabilities, developmental disabilities, mental illness and substance use disorders. Disability benefit specialists provide information and assistance with public and private benefit programs including application and appeal procedures.
The ADRC is the center for people who have questions about how they can help their loved ones. The ADRC can assess your level of need for longterm care, and determine your eligibility for financial assistance. They will then present you with options to choose a living situation that is right for you. Even if the individual doesn't meet the requirements for long-term care funding, they can still assist individuals with resources for home care agencies and other resources to meet their basic daily needs. The ADRC is an impartial service, which means they can not make the decision for you, they can only give you options for what you want to do.
Some examples of how the ADRC can assist: if someone is in need of a shower chair because they just had surgery, the ADRC can let you know how to get access to one. If someone becomes injured and can no longer work, they can assist with the Social Security Disability benefits. The ADRC is a single access point for your questions on aging and disability.
In addition to the ADRC, Taylor County Commission on Aging (COA) offers services to help seniors thrive.
COA director Nathanael Brown says that this is an "organization that offers various programs throughout the area for people who are 60 years of age or older." Some of these programs that they organize are "Meals on Wheels," dining