Posted on
Drier sisters working to build market steer dynasty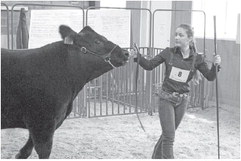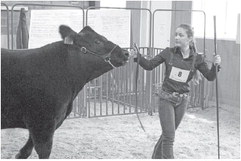 Sophia, Elle, Claire, and Shae Drier all see success in the show ring
When it comes to showing market steers in Taylor County, the four sisters are well on their way to building a dynasty of champions.
The sisters, Sophia, Elle, Claire, and Shae and steers from their family's farm have secured either grand or reserve champion in the market steer shows for at least six of the past seven years and don't appear ready to slow down anytime soon.
Sophie is the oldest sister, she will be entering her senior year at Gilman High School this fall and has been showing steers since 2013 and her steer earned grand champion at the 39th annual Market Animal Show and Sale (MASS) held Saturday at Premier Livestock and Auctions.
Elle is the next sister. She will be a sophomore at Gilman High School this fall and has been showing since 2015. Her steer took third in the middle weight category at this year's show.
Claire is an eighth grader and has been showing since 2017. Her steer took first place in the light weight competition.
The youngest sister, Shae, will be entering fifth grade and made a splash with her first year of showing by earning the reserve champion market steer and taking first in junior showmanship.
The sisters' success comes from long hours and hard work preparing the animals. While those showing pigs and lambs begin working with their animals in the spring, in beef competition they start working with their animals in October.
Sophia noted that while at show weight they are at about 1,300 pounds, they are about 600 pounds when they begin working with them and leading them.
"When we start breaking with them at the beginning, they do pull you around," Sophia explained. The key, she said is in having the animal recognize you as its master. Of course, that doesn't mean things can't go wrong during the show. "You never know with steer, when they will flip a switch," she said.
"It is hard to lead a 1,300 pound steer around," Sophia said. This becomes more of a challenge as the animals become hot, tired or irritated. With the weekend's heat there were a number of steers who were becoming unruly during the show. Fortunately Sophia said, there was a break between the show and the sale to allow the animals to relax and cool off.
Sophia said working with market animals as part of the MASS program is a good way of learning responsibility and commitment, not to mention budgeting and how to use money wisely. "It is a really good experience," she said. She noted that every day that they are at their father's house they are in the barn working with the steers, brushing them and blowing them out to promote a thicker coat.
Sophia noted that she was happy they had a chance to show this year and would have been very disappointed after putting in all the time since last fall. "It was really nice to see people doing things again," she said. "Getting out and being able to do the show was really nice."
Sophie said she looks forward to competing next year before she ages out of the program and says there is a bit of sibling rivalry as the sisters work to outdo each other. "It is always a great feeling when you do well," she said, noting that the family competition adds another layer of fun.
The sisters' parents are Robbie and Jeanie Drier. Growing up on her father's beef farm Sophia noted that they never really considered showing other market animals and prefer beef.