Posted on
Gilman moves ahead with plans for in-class school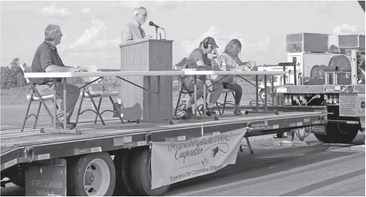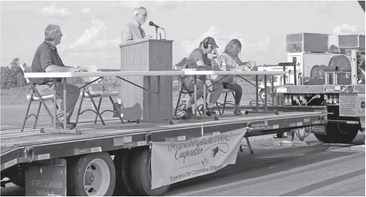 Wisconsin Department of Public Instruction released an informational plan titled "Education Forward" with aims to provide framework for schools to build their reopening plans around. The publication includes instruction on how to safely open up, with options displaying in-class, online, and hybrid education, and showcased how to have temperature checks and staggered openings.
Gilman School District has been reviewing the 83-page publication, and has begun planning to reopen in-class school effective September 1. Although they're planning to open, it's important to keep in mind that the situation is constantly shifting, and whatever plan they put together is subject to the condition of the pandemic come September.
Gilman Superintendent Wally Leipart said the decision to open at the normal Sept. 1 date, instead of starting early in August like some districts are contemplating, best supports Gilman's belief in learning.
"We should stick with the framework that we have for the school calendar," he said. "We need to focus our attention on supporting learning, whether it's in person or at home. This idea of starting early just incase we have to close, as if we're not going to support learning while the building is closed, I just don't think that's good for kids."
With school opening Sept. 1, the COVID-preparedness committee will meet mid-July, and they hope to draft a full plan that will be ready for public release come August; the district also plans to have a voluntary two-week summer school for grades K-8 during August.
"The best approach we believe we should take is to be back in the building," said Leipart. "We'll start from there, and take appropriate, reasonable measures to create an environment that is supporting universal precaution and social distancing, and be ready to respond to whatever conditions [may arise.]" DPI's Education Forward also outlines staggered schedules, in which students would attend school during different times based on their grade level. Leipart believes Gilman is small enough to avoid such an extreme option, instead opting for a more level-headed approach.
"Our population allows us to take more reasonable action," he said. "So instead of letting hallways get crowded what we could do is stagger the release of buses, so they all show up at the normal time but then we call students out one bus at a time, and then that bus leaves."
Leipart also contemplated a staggered drop-off for when students arrive, but nothing is finalized. One idea was to have drop-offs by name, such as those with last names beginning with the letter A-K go through the gym entrance, the letter L-R go through the main office, etc.
Athletics is being eyed with concern too, especially in regards to close-contact sports.
"Athletics, if they're on, might be a week by week decision. If we're scheduled to play football in a community that has an active hotspot, we'd say we're not going to that game," said Leipart. "Regardless of what Wisconsin Interscholastic Athletic Association determines, we're going to be taking appropriate action where necessary to keep our kids safe."
The district has a survey on their website which can be taken by parents of Gilman students to gauge how they feel about the approaching school year. The survey was also sent out in the mail to a number of people who were unable to take the survey online. The survey is open until July 3, so results are not yet finalized.
"We've had great responses to that so far," said Leipart. "People are being receptive to the conditions. I think there is an awareness at this time that we have to change some things."
To enable a more prosperous learning environment, Gilman district is obtaining additional technology for their students to use. Grades 5-12 had Chromebook laptops last year, but now K-5 will have iPads for the coming school year; fifth grade will no longer have Chromebooks and will transition to iPads. Leipart said the increase in technology will not only bolster the learning capabilities of students, it will help Gilman stay connected as a whole, even beyond school.
"We need to really support that communication and relationship between the teachers and the students, and the teachers and the parents," said Leipart. "Parents' jobs are big, and their plates are full. So we're really going to focus on developing support for both students and parents, and maintaining that relationship."
Rural internet speeds is a persisting concern for the district, as roughly 20% of Gilman district's families have no, or extremely limited, internet access. As such, they remain mindful of those who have dodgy internet while constructing their back-up plans for if Gilman is forced in to at-home learning. Leipart said when the district considers providing technology, they look at using technology that is accessible to students offline, too, in order to provide additional support for those with serious internet issues.
He underlined that at-home learning would not be 100% online, rather it would still be kids working on projects, reading a book, or generally engaging with their environment at home to create a meaningful learning experience.
"So our plan for at-home learning isn't about seven hours on the internet," he said. "The main point is we'd support athome learning whether there's internet or not."
In addition to getting ready for in-person class Sept. 1, Gilman implemented their Continuum of Learning, a sort of fail-safe plan in which teachers are currently working to figure out how they're going to maintain their relationships with students, and how they'll continue to provide instruction, whether it's in the physical school building, a hybrid of in-class and online, or if students have to be home for an extended period of time. But, as of now, Gilman School District is on schedule to be back open Sept. 1, and, hopefully, soon be returning to normal.
"We'll be doing school as long as things stay the same," assured Leipart.