Posted on
All Cooped Up?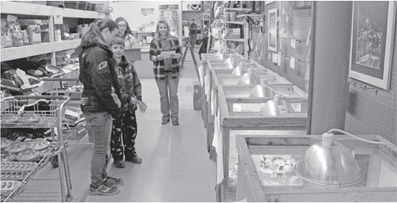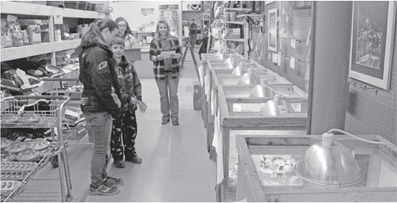 by Brian Wilson News Editor With prices for eggs and poultry products high as the result of national demand and supply chain issues related to the COVID-19 pandemic, many area residents are turning to their backyards to help ensure food security for their families.
Heather Orth, who manages the chick sales at Fourmens Farm Home in Medford reports that orders for chicks have been exceptionally high this year, far surpassing past years.
April and May are the prime sales period for chicks at the store. Fourmens offers a variety of breeds of chickens depending on the purpose with some breeds being more suited for egg production while others are more suited to be raised for their meat.
Orth explains that the orders begin to be placed in late winter for delivery and pickup in the spring.
As concerns over the COVID-19 pandemic increased in the country, Orth said the interest in ordering chicks saw a corresponding increase.
"We could tell people really wanted to plan for their future with meat and eggs," Orth said.
In a typical year, the the store would see a regular number of pre-orders from customers, many of whom purchase chicks every year. The store would also purchase additional chicks in the most popular breeds to have on hand for people to purchase.
This has been far from a typical year. The store quickly sold out of its first three orders of chicks and the store stock that usually takes five to seven days to sell was gone in a matter of hours.
Orth said the increased demand is not just being seen here but is impacting breeders who are working to keep up with the orders. She said they are usually able to add to their orders throughout the season such as being about to add 500 or 1,000 birds, but have been told by their suppliers that they will no longer be able to make significant add-ons. She said while demand for meat birds has been high, the demand for laying breeds has been even higher.
"It has caused some issue with people wanting to place orders," she said, noting the store has reserved out all the available chicks from their suppliers in some breeds. Fortunately, she said, there remains quite a variety of birds to choose from and noted that this encourages people to try different breeds of chickens.
"The orders are coming in one after another," Orth said. "It is unbelievable."
Orth noted that while the demand is high, there are still many breeds available and people should not hesitate to call the store or check the Fourmens Facebook page for updates on what is available.
In addition to the familiar faces of families who purchase every year, Orth said there are many new chicken owners. She said many people she has talked to are drawn to chickens as a way of having their families be more self sufficient and less reliant on food supply chains which can be disrupted.
"If they were on the fence about keeping chickens, they climbed right over the fence," Orth said, of the number of people who decided that now is the time to raise chickens as a way to look out for their families. With the large number of new chicken owners, Orth said she has spent a lot of time answering questions, both on the phone and in person. Big questions include what breeds are best for different people's needs and advice on sizes of coops and what to feed the chickens as they mature.
This level of support is one of the things that separates Fourmens from other suppliers. Orth compares purchasing chickens to adopting a pet with the same considerations toward humane treatment and ensuring the animal is kept healthy and safe.
"We want the chicks to survive and have a good, humane upbringing," she said. "We want to help folks get the information they need to successfully raise their birds."
As far as the chick owners, Orth said their goal is to ensure the owners have a a good experience in raising chickens. To that end, Orth said they provide advice on flock management including such things as dealing with disruptive roosters and keeping the flocks peaceful. "You want to have a healthy balance," Orth said of the need to address problems early.
Orth has many years of experience in raising chickens both for meat and egg production with a strong homesteading tradition in their farm. She noted that many people have gotten away from the skills that were once commonplace to raise and ultimately process animals such as chicken. "This is a time where you can get back to the roots of homesteading," Orth said, explaining how she includes her children when they process birds. She notes this gives them valuable skills and lessons about where food actually comes from rather than assuming it comes pre-packaged in the store.
Orth said meat production is a popular choice for many of the bird owners with people raising on average flocks of 25 to 50 birds. It takes about eight weeks for the most popular meat birds to go from chicks to the size to be processed. She said she prefers a slower-growing variety that does more free ranging for food, noting these breeds are good for meat and will produce eggs while also eliminating bugs and other pests in the yard.
Orth noted some breeds are better than others for pest control including eliminating ticks and other biting insects from yards. She encourages people to call the store and talk about what they want from their chicken-owning experience.
m t f fr g al ya ot tic en abo ing