Posted on
Results on hold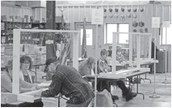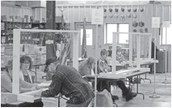 In person voting goes smoothly in county, results held until April 13
Despite the drama in the days and hours leading up to the polls opening, election day went smoothly in Taylor County.
County clerk Andria Farrand, who is the local official in charge of the elections reported that she visited many of the polling places in the county and that there were few issues with people adapting to the public safety protocols put in place.
In the city of Medford, voting was moved from the city council conference room, to the shop area at city hall. City attorney Courtney Graff wearing gloves and a mask greeted people at the door opening it for them and allowing only a few people in at a time. Other voters could stand outside under a tent erected to keep them dry.
Once inside, voters proceeded to registration tables where they checked in and were given a pen and directed to their district's table where poll workers checked identification and handed out ballots. Plastic barriers separated the voters from the poll workers. Those choosing to vote with the touch screen were given disposable cotton swabs to make their selections. At regular intervals, poll worker Greg Knight wiped down the voting booths and registration stations with a sanitizing solution.
Similar protective measures were in place around the county as the state conducted in-person voting during the "safer at home order" due to the ongoing COVID-19 pandemic.
With reported COVID-19 cases in adjoining counties, local election and public health officials did not want to take any changes and were maintaining social distancing throughout the day.
While the election took place on Tuesday, the outcome won't be known until next week when the ballots will finally be counted. According to Farrand, election officials were given strict instructions by the state late Monday night that no ballots should be counted prior to 4 p.m. on Monday, April 13. She explained this is due to the court rulings that absentee ballots received at polling places on election day and ones that were postmarked by April 7 would have time to arrive and be counted.
In municipalities such as the city of Medford, where the ballots are electronically scanned, the ballots will be kept locked and secured on the machines until the count in undertaken on April 13.
Many voters in this area chose to vote with absentee ballots rather than waiting until election day. The number of absentee ballots received at each of the polling places was far in excess of what is seen at regular spring elections.
Farrand said on election night, poll workers will make sure the number of cast ballots matches the number of voters but will leave any results until later.
Farrand said the last minute instructions from the Wisconsin Election Commission was just part of what has been a dramatic election cycle. Gov. Tony Evers had been pushing for the state legislature to take action on either delaying the election or switching it to an all absentee ballot.
Last week, Evers ordered a special session of the legislature to address a package of proposals related to the COVID-19 crisis saying he did not have the authority to alter the elections on his own.
"We have three branches of government to ensure a system of checks and balances, and questions about our elections typically rely on all three playing a role," Evers said.
"If I could have changed the election on my own I would have but I can't without violating state law. I've asked the legislature to do its part to ensure a fair and safe election and I hope we can get some clarity as soon as possible. The bottom line is that we have to keep folks safe and we have to make sure everyone who wants to vote has the opportunity to make their voice heard," Evers said. On Saturday, legislative leadership open and closed the special session within minutes taking no action. Prior to this, a group of organizations including the Democratic National Committee filed a lawsuit in federal court to try and get the in-person election stopped. A federal judge ordered absentee ballots request period to be extended and that absentee ballots were to be accepted even if they were postmarked after election day and delayed when results from the election could be released.
The state Republican Party filed an appeal of that ruling to the U.S. Supreme Court which on Monday evening overturned it and said only those ballots received or postmarked by election day would be counted.
"Consistent with years of precedent, the U.S. Supreme Court concluded that election laws should not be changed on the eve of an election. The confusion and time wasted as a result of these multiple lawsuits when we should have all been solely focused on preparing for a challenging election is truly sad and unfortunate. While some have argued that we should quickly change or circumvent our laws in a time of crisis, justifi cations in the moment can quickly lead us down a slippery slope that erodes our democracy," said Andrew Hitt, chairman of the Republican Party of Wisconsin.
This drew immediate response from Democratic National Committee chairman Tom Perez who stated: "Our country is in the middle of a public health emergency, but you wouldn't know it by the way the Republican Party in Wisconsin and across the country is acting. Instead of prioritizing the health and safety of the American people — including communities of color in places like Wisconsin that have been hit especially hard by this pandemic— the GOP is trying to stop voteby- mail and opposing other commonsense ideas to make our election systems more safe and accessible during this time. Trump himself told us why they're doing it: Republicans will never win another election if they let more people vote. That's because their agenda is so far out of step with so many Americans.
"A few weeks ago, we sued to extend the voter registration deadline and to extend the vote-by-mail deadline so that, at the least, ballots postmarked on Election Day would be counted. Democrats believe our democracy works best when more people participate, not fewer. Because we won, thousands more Wisconsins' votes will be counted," Perez stated.
On Monday Evers also attempted to stop the inperson balloting through an executive order. However, that was quickly challenged at the state supreme court which ruled that the in-person election should continue based in part on the argument that Evers himself put forward that the legislature and not the governor has the power to change the elections.
Evers issued a statement characterizing the decision as forcing Wisconsin residents to have "to choose between exercising their right to vote and staying healthy and safe."
"In this time of historic crisis, it is a shame that two branches of government in this state chose to pass the buck instead of taking responsibility for the health and safety of the people we were elected to serve," Evers said.
With the drama surrounding the spring general election, the candidates running in the special election to fill the vacant 7th Congressional District seat expressed concern over if the COVID-19 restrictions will impact the election scheduled for May 12.
Tricia Zunker, the Democratic nominee for the 7th Congressional District special election on May 12, has called for the legislature to stop playing partisan games and allow Wisconsinites safe access to the ballot box. Her opponent, Tom Tiffany, is a state senator.
"Today Wisconsinites were forced to choose to risk their lives to exercise their fundamental right to vote because the Wisconsin GOP decided to play disgraceful partisan games. We must learn from this and immediately move the May 12 election to an all-mail election to ensure the health and safety of Wisconsinites is not put at risk again," said Tricia Zunker.
Tiffany disagreed with Zunker's call and issued the following statement about the special session calling a change in the election right before election day "disingenuous."
"Numerous clerks have contacted me urging the Legislature to not follow Governor Evers' call for a special session to change the April 7 election date," Tiffany said. "For weeks, Governor Evers has supported holding the election on Tuesday, April 7th. Clerks have worked tireless in difficult circumstances to ensure the election runs smoothly."
The major concern for many election observers is the impact reducing polling places will have in major metropolitan areas. These are the areas of the state that have also had the largest number of reported COVID-19 cases and deaths.
For now, it will be a waiting game to determine what the outcome of the April 7 election will be and to look ahead to what might happen for the May 12 special election.