Posted on
St. Peter's continues tasty tradition at Dumpling Daze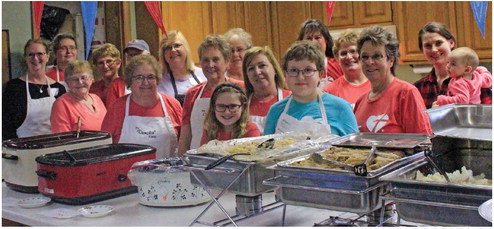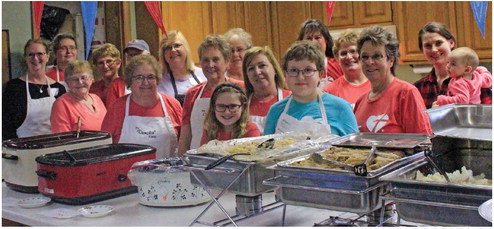 Congregants of St. Peter Church in Rib Lake gathered to share a feast of meat, potatoes, sauerkraut, and of course dumplings in their annual Dumpling Daze event on February 28.
Dumpling Daze is a local "church holiday" that always takes place on the Saturday following Ash Wednesday; this year it was sponsored by Thrivent.
"We've been doing it for so long I can't even remember," said Arlene Judnic. Arlene is the eldest original member of Dumping Daze that still participates in the church-holiday.
Judnic explained that Dumpling Daze was started by Stuart Varner, and ever since he began it as a church dinner, people have been asking the church about the event.
Cooking for Dumpling Daze begins on Ash Wednesday, culminating on Saturday when the congregation gathers with sliced pork roasts and homemade gravy to top the dishes.
Judnic continues to cook for the event after decades of the tradition.
"I make homemade sauerkraut," she said. "I make an eight gallon crock every year for church."
"Everyone thinks this is kind of 'witchy' but my grandma told me you have to cut your cabbage on the growing moon and it ferments better," Judnic said. "Why? I don't know, but it works. I always have good sauerkraut. If you don't make it right, it just gets to be like salted cabbage.
A large portion of the church community chips into the event, helping cook the food and tidy up the kitchen/ dining room.
"We have a growing number of new retirees in our church and they have really stepped up," said Judnic, expressing her pride in how supportive everyone had been. "They all came together to work, a lot of the time nowadays you don't find help like that."
Several women from St. Peter's duel parish Saint Andrew's Church pitched in as well.
"We do it every year it just gets bigger and bigger," Judnic went on to say. "We can't quit, because everybody wants to come. We have people coming from Milwaukee."
There was a wide variety of dumplings available from different cooks, including potato dumplings made by Kim Gebauer. Judnic's mother made dumplings all throughout her life, and Judnic, keeping with tradition, uses the same recipe as her.
The funds are going to St. Peter Church's Hardships and Scholarships initiative, in hopes of alleviating some pressure from those going through misfortune, and to further the education of several church going students.
Judnic said there are two men in the congregation who have cancer, and a woman who had underwent an industrial accident that resulted in the amputation of several of her fingers.
"We're going to give them gas cards," Judnic said. "Two of them have to go to Madison for treatment, so it's a lot of driving and gas money."
As for furthering students education, Judnic said they are going to help the kids in their confirmation class.
"This year we have a class of, I think, seven confirmands," she said. "We are going to start an educational scholarship fund [to help pay their school costs.]" Judnic finished by saying Dumpling Daze can get a little bit hectic sometimes, but at the end of the day it's a fun time for everyone, and a great opportunity for people to come together.