Posted on
School districts receive smart thermometers for families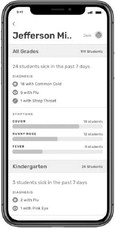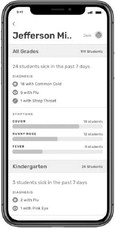 Your child has a sore throat, a cough or the sniffles. Is it time to visit the doctor? That's what a smart thermometer from the Kinsa FLUency program can help you decide.
Through the program, parents and staff in the Cadott, Cornell, Lake Holcombe and Gilman schools, can have access to free smartphones and thermometers to track illnesses.
Kinsa company was started with the mission to help track and stop the spread of infectious illness, after the founder was frustrated with so little information. With that thought in mind, Kinsa created an early detection system, which involved re-imagining what a thermometer could look like, as it is most often the tool parents turn to when they suspect an illness.
"Even a week makes a world of difference if you're looking at the flu epidemic or things like that," said Nita Nehru, director of communications Kinsa FLUency program. "Since fever is often the first sign of an infectious illness…parents are power users of thermometers."
The thermometer connects to a special smartphone, where parents can track contagious diseases in real time, as well as what illnesses are trending in an area, all while Kinsa collects anonymous information from the smartphone's app. And so, by doing that," said Nehru, "we have now been able to create the earliest and geographically precise information on when, and where, infectious illnesses start and spread."
Partnering with Lysol, Kinsa gives schools accepted in the program, free disinfecting products, and families and staff in the school are given free thermometers that would normally retail for $20.
With the smartphones, parents can see what cases of possible strep throat are in their school/child's grade, which could help determine if the child needs to see the doctor sooner when complaining of similar symptoms.
"Again, the purpose of the program is really to help the spread of illnesses in school, by giving the community more information on what's going around," said Nehru. "Earlier detection, leading to earlier response."
"It was just another way to communicate with parents, with a lot of people using smartphones," agreed Jessica Hager, school nurse for Cadott, Cornell, Lake Holcombe and Gilman. "I think with it being a new program, it took some buy-in with parents. I've had some good response."
Hager says she likes the fact that the smartphone can message parents directly, as reminder notes sometimes get lost in backpacks. She can also send instant reminders to teachers, asking that they be vigilant in hand washing and other preventative measures. With the app on the smartphone, parents and staff can see what illnesses are occurring within the school.
"It's nice to be able to see the patterns," said Hager.
While not everyone has linked their thermometer with the app, Hager says getting a good working thermometer into parents' hands is a good thing. Parents can also look up facts and enter symptoms to see the app's recommendation on treatment, whether to go to a doctor or not.
"The app will help you make those decisions," said Nehru. "Especially in elementary schools, illness spreads like wildfi re."
The FLUency program has 30 schools participating in Wisconsin, and more than 1,400 schools nationwide. Currently, Cadott has distributed 85 thermometers (one to a family), Cornell has 26, Lake Holcombe has 32 and Gilman has 15.
Hager says as soon as she heard about the program, she knew it was something that would benefit the schools she serves. Between the school years, in July, Hager was interviewed for the program and the supplies were then shipped to her for distribution.
"They (Kinsa) thought our schools would be a great fit, because of the rural location of them all," said Hager.