Posted on
CVTC taking innovative approach to remote classes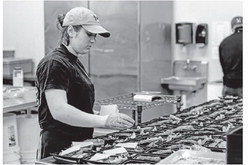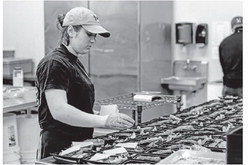 Hands-on learning still taking place
When leaders of culinary programs throughout the state technical college system held a conference call to talk about how to handle instruction when face-toface classes stopped due to the coronavirus pandemic, Chippewa Valley Technical College culinary chef Kevin Brown came with ideas.
"Everyone was talking about pushing things back," Brown said. "No one had a plan for what we would do if we weren't going to be back this semester."
The CVTC program director was the exception. He presented a plan for how the students could still get in their kitchen time when they could not use the college's state-of-the-art facility. His idea, which is now being implemented, is one example of how CVTC instructors are coming up with innovative ideas for how to continue the hands-on learning the college is known for during remote learning.
"We figured out how we could build some to-go packages for the students," Brown said. "They would pull up to the back door and pick up ingredients and materials and put them together at home."
When Governor Tony Evers issued his safer-at-home order, having the students pick up packages at the college wasn't going to be allowed. Brown came up with another idea. He contacted Dan Beck of Midwest Meals, an Eau Claire-based pre-packaged meals company, which has a retail store in the Eastridge Center that remains open.
Brown also contacted Eric Wolfe of Nutri-Prep Meals, Midwest Meals' parent company, who fashioned an existing partnership between Midwest Meals and the CVTC Culinary Management program. A new partnership was worked out in which the company would purchase supplies for the students and provide its packaging.
The students will pick up a box of supplies, prepare the food in the Midwest Meals packaging, and send photos or videos along with a self-evaluation to the instructors. They would pick up new supplies each week.
"I am overwhelmed by the level of service Midwest Meals is able to give us," Brown said. "The college will reimburse them for the food and supplies, but we aren't being charged anything for the labor to put it all together."
"It's pretty important for the students to continue their curriculum," Beck said. "You can't have an entirely online culinary class without any ingredients to work with. We're hoping to get this going soon after CVTC online classes resume March 30."
Although the Shear Inspiration Salon and Spa is not open, CVTC Cosmetology and Nail Technician students will continue to get some hands-on experience as well.
"Our students are transitioning to online for however long it takes to get through this time safely," said Emily Dittner, program director. "We are busy creating online lectures, videos of how to perform services, and more. We will be continuing with hands on activities learning through online meetings/chats, videos, online lectures, and discussions. The students will be doing haircuts, colors, perms, braiding, and styling techniques on manikin heads, and nail services will be practiced on a manikin hand."
Instructors had to work hard and fast to get supplies to the students before the safer-at-home order went into effect. "We had to adjust very quickly," Dittner said. "We rushed and boxed up kits with equipment and supplies they need. A Friday pick-up plan had to be advanced to Monday."
In the Early Childhood Education program, the students had already completed half of their practicum experiences, which normally consists of eight hours a week at schools or child care centers, when face-to-face classes ended. When the students were no longer going to be able to have direct contact with children, alternative methods of demonstrating competencies had to be found.
"We decided on case studies in which students would describe how they would handle certain situations, based on their experiences with children," said Kathy Preusse, program director. "They also have to do lesson plans and will be taking video of themselves presenting the lessons, so we will still be able to see them doing it, just not in front of children."
Preusse added that there are no standards for a minimum number of hours of practicum experience, so students finishing their last semester will still be able to graduate in May.