Posted on
Family Day at the Movies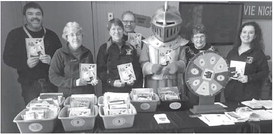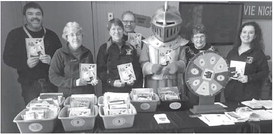 Family Day at the Movies is a monthly effort to promote family engagement and involvement in ways that are positive emotionally and socially through family time watching a movie and reading books together. This free event will be held during the school year on the 1st Saturday of each month at 10 a.m. at Broadway Theatre in Medford. It is open to anyone regardless of community they live in.
The program started on Jan. 4 with the "Secret Life of Pets." Joe Greget, director of student services/special education for Medford Area Public Schools, reported they were pleased with the turnout and are looking to grow it in future months.
Upcoming movies include: Feb. 1 "Curious George," March 7 "Dr. Suess's Cat in the Hat," April 4 "Babe," and May 2 "50th Anniversary of the Muppet Movie."
Family Day at the Movies is made possible through a collaborative partnership among Broadway Theatre, Taylor County Literacy Council, CARES Model, and Medford Area Public School District.
In addition to being a family-friendly movie experience, the movie atmosphere will be sensory friendly courtesy of recommendations from Taylor County Autism Support Group. Broadway Theatre will also be making a donation from a portion of the popcorn and soda sales to the Taylor County Literacy Council.
As Greget explains, the program is designed to be positive for all involved. Representatives from the Taylor County Literacy Council will be on hand to give away a book aligned with the movie to each family. Children and adults will receive additional books to build up their home library. There will also be maps of the Little Free Libraries handed out as well as information about one-on-one adult tutoring opportunities. The goal is to promote literacy among children and adults.
Medford Area Public School District representatives will be on hand at each of the movie days presenting information on the following areas:
• Medford Adult Diploma Academy information
• Parenting resources
• Special Education Staff available for consultation • Dyslexia Specialists available for consultation
• Special Education and Student Services programming brochures
• Information on Speech Language and Occupational Therapy
• Child Development Day information
• School and Family Engagement (S.A.F.E.) Initiative • Families Being Involved workshop
• Big Red the Medford Raiders Mascot The CARES Model is a key part of the program with a Department of Public Instruction (DPI) Mental Health Grant covering the cost of the movies. Its goal includes promotion of positive social emotional and well-being.
At each movie, information will be presented about school-based mental health counseling and school social worker services. In addition there will be suicide prevention materials from Aspirus and "Faith, Hope, and Love" suicide prevention buttons.