Posted on
Community donations help Medford Technology Education Department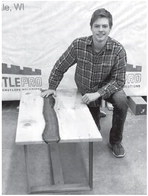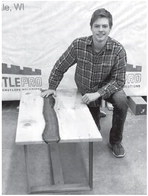 The Medford Technology Education Department has been fortunate to have community members donate materials for students to utilize for classroom projects. During the 2018-2019 school year, over 30 students and staff members received finished projects because of the materials donated. Projects such as dining room tables, coffee tables, nightstands, dry racks for Medford Area Elementary School (MAES), and many bluebird houses have been made. Some of these items were constructed during class time, while some were made during Medford Area Senior High's (MASH's) "RPM" (Raider Power Minutes).
During RPM students are able to choose a teacher or location to work in. These times are set up to either enrich a student's schooling or give them the opportunity to get some more help if they are struggling. The Technology- Education Department was fortunate enough to receive donated pine logs from local resident Perry Emmerich.
Teacher Gabe Gelhaus and others donated time and effort outside of class to get them to Eric Zuleger, where he then was willing to cut, stack, and help load it for minimal cost. With the donated pine, a 2019 graduate, Riley Kleist, created a beautiful epoxy river table.
It was also used to make the bluebird houses which helps the endangered bluebird populations. Students are then able to take these houses and install them in an area suitable for the birds. The Art Dry Rack was made by the Building Construction class and donated to MAES, where it organizes student classroom projects and keeps student artwork looking great.
Senior Doug Way made a unique dining table from donated lumber sawn by Tyler Wolf, owner of Goodrich Sawmill. The lumber had been sitting outside for a few months and red mold was able to creep its way into the grain of the wood, creating a beautiful and unique look.
Also this 2019-2020 school year the district has been very fortunate to have Eric Webster, owner of Hewn In Time Reclamation, donate a large amount of wood so students will have the option to not pay for wood projects.
The students have been excited to have the opportunity to be working with 200-year-old lumber that has so much character. This fall the Woods Manufacturing class is making nightstand sets for themselves. So already 18 students will be affected in a positive way. Along with the reclaimed sawn barn beams that were donated, Webster has many vintage barn windows that MASH's art department will be using in many creative ways. "Webster has been awesome to have around my senior boys, talking about life lessons and what could be in store for their futures. He truly wants to give to this community and wanted only one thing in return, 'Pass It On!' Gelhaus said. If you or somebody you know is willing to "Pass It On" by donating materials to the Technology Education Department contact Gabriel Gelhaus at 715-748-5951 ext: 494 or [email protected] wi.us. The students appreciate the donations as they are able to make projects that wouldn't be possible without the generosity of the community.