Posted on
John "Jack" R. Lacina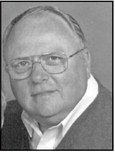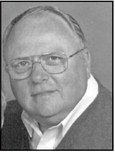 – Obituaries –
John "Jack" R. Lacina
John "Jack" R. Lacina, 77, Cadott, passed away peacefully at his home Friday, June 19, 2020.
Jack was born Feb. 11, 1943, to John H. and Dorothy (Imbery) Lacina.
He married Janet M. Shakal July 27, 1968, at St. Rose of Lima Catholic Church in Cadott.
Jack graduated from Cadott High School in 1961, then attended a lumber grading school in Tennessee, before enlisting in the United States Air Force. He served from April 1, 1964, to March 28, 1967, and was stationed at several duty stations in the United States and abroad, including Tan Son Nhut Air Base, Vietnam, during the Vietnam War.
Upon completion of his military service, Jack married Janet and attended the University of Wisconsin-Whitewater, graduating with a business administration degree Dec. 21, 1972.
Jack and Janet returned to Cadott, and purchased and operated the Lacina Building Center for 25 years. He later worked as a wholesale and retail building materials representative. Upon retirement, Jack devoted his time caring for his mother and his wife.
He was a dedicated husband, father and grandfather; he enjoyed spending time with his children and grandchildren. Jack had many interests, foremost: hunting, fishing, camping, and spending time at Bear Lake with family and friends.
Jack was a member of the VFW, American Legion, past member of the Citizens State Bank Board of Directors, and many other committees and organizations.
He is survived by daughter – Nancy (John) Post, New Auburn; sons – William Lacina and Kristy Connor, Proctor, Minn., David Lacina, Grand Marais, Minn., and Shawn (Shannon) Lacina, Tomahawk; grandchildren – Mitchell (Adelina), Grace and Alexa Post, Daphne and Brody Lacina, and John "Jack," Emily and Sophia Lacina; and brother – Thomas Lacina, who also passed away Friday, June 19, 2020.
He was preceded in death by his parents; wife – Janet; and sister – Sharon Polanski.
A Mass of Christian Burial will be held at 11 a.m., Friday, June 26, at St. Rose of Lima Catholic Church in Cadott, with Father William Felix officiating. Interment will follow the funeral Mass at the Brooklawn Cemetery in Cadott, with military honors conducted by the Cadott American Legion and VFW.
Visitation will be from 4:30-7:30 p.m., Thursday, June 25, and also one hour prior to the funeral Mass, Friday morning, at St. Rose of Lima Catholic Church.
For the health and safety for everyone who may attend the services, social distancing, very minimal contact and face coverings are very strongly recommended.
Memorials may be sent to the Lacina family and will be donated to organizations of the family's choice, in memory of John R. Lacina. Please send to: Leiser Funeral Home, P.O. Box 397, Cadott, WI 54727.
Online condolences may be expressed leiserfuneralhome. com.
90924