Posted on
Jean D. Winger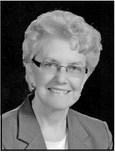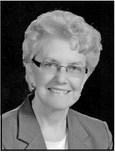 Jean D. Winger
Jean D. Winger, 80, Cadott, died Sunday, April 5, 2020, in Surprise, Ariz.
Jean Dawn Mattes was born Aug. 21, 1939, in the Town of Reseburg, rural Thorp, to Philip C. and Elmira (Kuester) Mattes.
She was raised on the family farm, attended Reseburg School and graduated from Thorp High School in 1957.
Jean then went on to the University of Wisconsin-Madison and Kansas State University, where she earned a bachelor's degree in elementary education.
She married Dr. Daniel Mead Winger June 27, 1959, at St. Paul's Lutheran Church in Thorp. Together, they established the Cadott Animal Clinic, where Jean was a surgical assistant, dog groomer and inventory clerk. She was also a teacher, horsewoman, gourmet cook, and mother to Michele and Paul. In retirement, the couple became snowbirds, splitting their time between Cadott and Surprise, Ariz.
Jean was a world traveler, who accomplished her life goal of visiting the seven wonders of the modern world: Machu Picchu, Chichen Itza, the Great Wall of China, Taj Mahal, Petra in Jordan, Christ the Redeemer Statue in Brazil, and the Roman Colosseum.
She was a devout member of St. John's Lutheran Church in Cadott, and Spirit of Grace Lutheran Church in Sun City Grand, Ariz.
Jean was also a member of Bridge Club, Women's Club, and the library board. She was a loving, generous and beautiful person, who inspired her children and grandchildren to earn advanced degrees. She was there for every one of their graduations.
Life was a challenge. She had polio in the 1950s, and later developed Crohn's Disease, which contributed to her passing. Jean lived by the five L's of life which are live, learn, love, laugh and she always reminded her husband to listen.
She is survived by her husband – Dr. Daniel Mead Winger; her children – Michele (Richard) Price, Stanley, and Paul Winger, Chippewa Falls; her grandchildren – Victoria (Jeff) Flashinski, Thorp, Alexandra (Jamy) Szabla, New Hope, Minn., and Dr. Nathan Price, Le Seur, Minn.; her greatgrandchildren – Azaylea Price, Bradley, Clayton and Lucas Flashinski, Audrina, Ava Leigh and baby Szabla; and one niece – Laura (Thomas) Schleicher, Oconomowoc.
She was preceded in death by her parents; three brothers – Philip "Fibber," Marlyn and Donald Mattes; and one nephew – Fred Mattes.
She will be laid to rest in Sylvan Cemetery, in the Town of Reseburg, rural Thorp. The family will hold a memorial service to be announced at a later date. God bless.
Thorp Funeral Home is assisting the family with arrangements.
Online condolences may be expressed at cuddiefh.com. 88009