Posted on
Irene J. Albrecht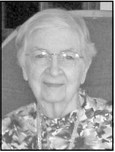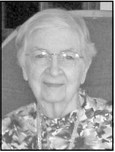 "I tell you the truth, today you will be with Me in paradise."
Luke 23:43 Irene J. Albrecht went to Heaven Tuesday, March 3, 2020, at the age of 96.
Irene was born in Holcombe, Nov. 29, 1923.
She attended the Holcombe Public School until fifth grade, then moved to Cornell, where she graduated from high school in 1941.
Irene attended one year at River Falls State College, after which she worked at the Cornell Wood Products Co. for three years, as secretary to the office manager. Just before the end of World War II, Irene went to Chicago, Ill., and worked for the Texas Company for several months, after which she moved back to Cornell, and worked for the Cornell Transfer.
She married Melvin Albrecht in June 1946, after he returned from serving in the Army in Europe during World War II. They purchased a home on Riverside Drive and raised their children there.
During this time, Irene worked as the Cornell High School secretary for 17 years. She was a member of St. John's Lutheran Church in Cornell, and participated in the Women of St. John's and the Lutheran Women's Missionary Society.
They remained in Cornell, until October, 2005, when they moved to Appleton.
She is survived by one son – Alan (Jayne) Albrecht, Omaha, Neb.; three daughters – Trudy (Ed) Stern, Appleton, Debra (Russ) Feirer, Greenleaf, and Laurie (Gary) Marcoux, Rushford, Minn.; she was blessed with seven grandchildren – Matthew (Marisa) Feirer, Sarah (Jeremy) Feirer-Braunschweig, Nathan (Becca) Feirer, Benjamin (Amy) Stern, Amanda Stern, Noah Albrecht and Dane Albrecht; she was further blessed with seven great-grandchildren – Hannah Feirer, Penelope, Oliver and Malachi Stern, Addison and Isla Braunschweig, and Aria Feirer; a half sister – Carolyn Sammon, Cornell; a half brother – William (Julie) Zinsli, Menomonie; and a sister-in law – Bonnie Zinsli, Cornell.
She was preceded in death by her husband – Melvin, who passed away Jan. 17, 2008; her mother – Lillie Zinsli; her stepfather – William Zinsli; her half brother – Richard Zinsli; and her grandmother – Mathilda Falbe, with whom she lived until she married.
Visitation for Irene was held at St. John's Lutheran Church in Cornell, from 1-2 p.m., Saturday, March 7. A Service was held at 2 p.m., at the church with the Rev. Chris Christenson officiating.
Interment will be in the Cornell Cemetery.
In lieu of flowers, memorials may be given to St. John's Lutheran Church.
The family would like to extend their deepest appreciation to the staff at Living Tree Estates in Greenville, for the love, care and compassion, they provided to Irene and our family for the past seven years.
Mom and Grandma, we are so grateful you were our mother and grandmother. You made our hearts warmer and our lives richer in too many ways to count. So much of the happiness we've known can be traced back to your love. We'll miss you, but we'll see you again before you know it!
Borton-Leiser Funeral Home in Cornell, is assisting the family. 86483