Posted on
Lila J. Pahl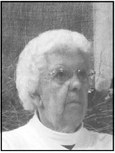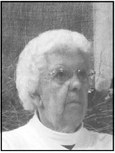 Lila J. Pahl, 94, formerly of Chippewa Falls, died peacefully Monday, Feb. 10, 2020, at Park Ridge Assisted Living in Watertown.
Lila was born in the Town of Colburn, to Henry and Beulah Helland, Dec. 16, 1925.
She lived there until age 11. Her parents then moved to the Jim Falls area.
Lila married Arthur Pahl July 2, 1946, at Epiphany Lutheran Church in Eau Claire, where they were members.
They resided in Eau Claire, until moving to Jim Falls, in 1951. They then joined Zion Lutheran Church in Chippewa Falls, where she has been a member ever since.
Lila made her home in Jim Falls, for 53 years, before moving to Chippewa Falls, in 2004. She moved to an assisted living facility in Watertown, in 2018, to be closer to her children.
They had four children born to them, three of whom are still living – Gayla (Douglas) Stoll, Roxane (John) Seidlitz and Jeffrey (Dottie) Pahl; nine grandchildren; 17 great-grandchildren; two step-grandchildren; 10 step-greatgrandchildren; five step-great-great-grandchildren; two sisters – Sylvia Fasbender and Gladys Barnett; sister-in-law – Donna Helland; and many nieces and nephews.
She was preceded in death by her husband in 1996; son – Jerome in 1969; great-grandson – Riley Pahl in 2005; her parents; four brothers and two sisters.
Services will be held at 11 a.m., Thursday, Feb. 20, at Zion Lutheran Church in Chippewa Falls, with the Rev. Timothy Jones officiating. Interment will be in the Forest Hill Cemetery in Chippewa Falls.
Visitation will be from 4-7 p.m., Wednesday, Feb. 19, at Pederson-Volker Funeral Chapel and one hour prior to the service, Thursday, at the church.
Pederson-Volker Funeral Chapel and Cremation Services in Chippewa Falls, is serving the family.
Online memories and condolences may be shared at pedersonvolker. com. 85269