Posted on
Erma L. Seidlitz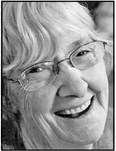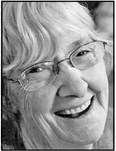 Erma L. Seidlitz, 82, passed away Friday, Jan. 24, 2020, at Care Partners in Eau Claire.
Erma was born June 6, 1937, in Chippewa County, to George and Erma (Noyes) Card.
She married Lyle Seidlitz June 11, 1955, at Trinity Lutheran Church in Keystone. They moved to Seattle, Wash., where Erma worked at Sears.
After their first two children were born, they moved back to Wisconsin, where they had four more children. They raised their six children near Lake Wissota in Chippewa County.
Erma worked for the Salvation Army Thrift Store for many years, and sold Tupperware. She was a member of AAL Thrivent, the YMCA, TOPS and Faith Lutheran Church, where she was a very active member of the Ladies Aide. After Lyle passed away in 2004, she kept herself busy by volunteering at the Chippewa Falls Senior Center Thrift Store.
Her hobbies included sewing, knitting, crocheting and baking. She made sure we all had homemade fudge and goodies for Christmas, along with something she crocheted. She also traveled extensively with her husband, children and friends. She loved visiting her children, grandchildren, great-grandchildren, as well as other relatives.
She is survived by six children – Ron Seidlitz, Elk Mound, Cheryl (Robert) Phillip, Everett, Wash., Dale (Brenda) Seidlitz, Meriden, Conn., Zanna Hall, Chippewa Falls, Angela (Greg) Larson, Eagan, Minn., and Vicki Solberg, Chippewa Falls; 15 grandchildren – Stephanie (Justin) Steinmeyer, Joel Seidlitz, Brianna (Joey) Meicher, Brian Phillip, Haniel (Vicki) Massoud, Heidi (Caleb) Hussong, Josh Seidlitz, Kylie and Brody Hall, Helen, Corinna and Jackson Larson, Matthew Nesvacil, Tarin (TJ) Rud and Linzy Solberg; 10 great-grandchildren – Morgan and Logan Steinmeyer, Ellanor and Charlotte Meicher, Isiah Horton, Makayla and Ally Massoud, Jordyn, Riley and Izzy Hussong; – numerous other relatives and friends.
She was preceded in death by her husband of 49 years – Lyle; her parents – George and Erma Card, and Charles Lieder; grandchildren – Zachary Lyle Seidlitz and Hope Salem.
Services will be held Saturday, Feb. 1, at 11 a.m., at Faith Lutheran Church in Chippewa Falls, with a visitation one hour prior to the service at the church. Interment will be in the Cleveland Cemetery.
Memorials are preferred, and will be donated to the Zachary Lyle Seidlitz Scholarship Fund and the HOPE Club Fund, in honor of Erma's grandchildren who preceded her in death.
Olson Funeral Home in Bloomer, is assisting the family.
Online condolences may be expressed at olsonfuneralhomebloomer. com.
84376