Posted on
Constance "Connie" R. Boeger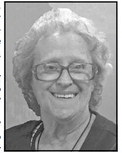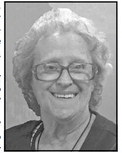 Constance "Connie" R. Boeger, 80, formerly of New Auburn, passed away peacefully, while under hospice care, at her home in Baraboo, Sunday, Dec. 15, 2019.
Constance was born May 12, 1939, in Two Rivers, to Horace and Johana "Jenny" (Payette) Schaden.
She married Donald "Don" Boeger June 25, 1960, in Two Rivers, and together, they raised three children.
Along with taking care of her family, Connie worked as a group home caregiver for many years. She was a member of the St. Jude's Alter Society in New Auburn, and in her free time, enjoyed traveling, camping and spending time with her family, friends and dogs.
She is survived by her husband – Don, Baraboo; sons – William (Sherry), Poynette, and Robert (Tammy), Stratford; daughter – Julie (Alan) Morris, Baraboo; brother – Nicholas Schaden (Jean), Whitelaw; sisters – JoAnn (Edward) Huberty, Sheboygan, and Cynthia (Jerome) Puta, Mishicot; seven grandchildren; two great-grandchildren; numerous nieces; nephews; and other relatives and friends.
She was preceded in death by her parents – Horace and Jenny Schaden; in-laws – Arno and Helen Boeger; brother – Sheldon Schaden; and daughter in-law – Christine Boeger.
A Mass will be celebrated Thursday, Dec. 19, at 1 p.m., at St. Paul's Catholic Church in Bloomer, with a visitation one hour prior to the service, at the church. A lunch will follow the service.
Private burial will be in the Springbrook Cemetery, at a later date.
Olson Funeral Home in Bloomer, is assisting the family.
Online condolences may be expressed at olsonfuneralhomebloomer.com.
82892