Posted on
Michael "Mick" R. Hugh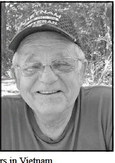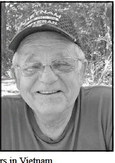 Michael "Mick" R. Hugh, 74, Yankton, S.D., and formerly of Cornell, passed away Friday, Nov. 8, 2019, at the Heritage Manor in Wakonda, S.D.
Michael was born June 11, 1945, in Souix Falls, S.D., to Robert and Lorena (Hahn) Hugh.
He attended and graduated from Canova High School in Canova, S.D.
He served in the U.S. Navy from 1964-74, serving three tours in Vietnam.
Michael married Sarah Cox and together, they had a son and later divorced. He married Victoria Janda Aug. 29, 1970, and together, they had four children.
Following the service, Michael worked as an automobile mechanic until 2010, when he retired.
Michael enjoyed sports, anything involving his children and grandchildren, bowling, tinkering and building anything with his hands, and spending time with his children, grandchildren and the "love of his life, Eileen Honner."
He is survived by his children – Robert (Virginia) Hugh, Salem, Va., Rachel (Brad) Meyer, Medford, Kristen (Michael) Jahr, Cadott, Laura (Terry) Steinmetz, Bloomer, and David (Amy) Hugh, Cornell; grandchildren – Kile Trevithick, Connor Mennenoh, Ashley (Collin) Bowe, Isabel Gonzalez, Scout Mennenoh, Alexis Kramer, Autumn Kramer, Preston Fredrickson, Paxton Hugh, Tatum Steinmetz, Peyton Hugh, Justin Fuchs and Makayla (Alex) Moser; a greatgranddaughter – Elizabeth Trevithick; special friend – Eileen Honner; sister – Barbara Hoffert, Souix Falls, S.D.; and several nieces; nephews and other family members.
He was preceded in death by his parents; grandparents; and a brother-in-law – Roland Hoffert.
Services will be held at noon, Thursday, Nov. 14, at Our Savior's Lutheran Church in Cornell, with Pastor Andy Schottelkorb officiating. Visitation will be from 10 a.m., until the time of service, Thursday, at the church.
Private interment will be in the Cornell Cemetery, with military honors conducted by the Cornell American Legion.
Borton-Leiser Funeral Home in Cornell, is assisting.
Online condolences may be expressed at bortonleiserfuneralhome. com. 81275