Posted on
Warren Lawrence Honadel Jr.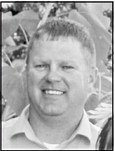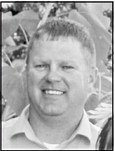 Warren Lawrence Honadel Jr., 39, Augusta, passed away surrounded by his loving family, Thursday evening, Oct. 31, 2019.
He was treated at Mayo Clinic in Eau Claire, and transferred to St. Mary's Hospital in Rochester, Minn., where he was diagnosed with "N.O.R.S.E." After a courageous fight that lasted two weeks and two days, Warren was called home to be with his Lord.
Warren was born Dec. 29, 1979, at Luther Hospital in Eau Claire, to Warren and Deloris (Kolpien) Honadel.
He was raised on a dairy farm in the Ludington Township in Eau Claire County.
Warren was baptized and confirmed at Bethlehem Lutheran Church in Ludington, and graduated from Cadott High School in 1998. Following graduation, he attended Barron Community College and later, graduated from the CVTC's lineman program.
For several years, Warren was employed by Push Inc., of Rice Lake, followed by the Eau Claire County Highway Department and Stensen Excavation. Since December 2018, Warren was employed by the City of Augusta.
He was united in marriage to Brittany Dickinsen Oct. 8, 2011, at Grace Lutheran Church in Augusta, where they were both members. Following their marriage, they settled into the Honadel family farm, where they began to build their lives together and had two sons.
Following the passing of his father, Warren rekindled his interest in agriculture, and starting crop farming and a beef operation.
Warren was an easy-going, supportive husband, who loved his wife and stood next to her during life's journey.
Friends and family will help remind them of a dad, who always had time and love for his boys, and couldn't wait until they were old enough to hunt, fish and farm with him. Warren was also very close to his nieces and always made time for them.
Warren always had something to do, a place to go or someone he wanted to talk with. Whenever out, he would run into a familiar face or strike up a conversation with someone new. His warm personality made it easy to befriend him.
When he found time, he enjoyed playing basketball, hunting, fishing and spending time with his family, especially his wife and two little boys.
He will be deeply missed by so many, especially his wife – Brittany, and their sons – Ty Lawrence, 2 1/2, and Coy Asher four months; mother – Deloris Honadel, Cadott; halfbrothers – David Markham (Julie Hitz), Cornell, and Brian Markham, Cadott; nephews – Jeffrey, Shane, Kayden, Brandon, Jordan and Jamie; godparents – Jerry and Lois Kolpien, Cadott; mother and father-in-law – Brent and Debbie Dickinsen, Augusta; sister-in-law – Lexi and Dennis Bergman, Augusta, and their daughters – Sophie and Hadley.
A visitation will be held Friday, Nov. 8, from 3-8 p.m., at Grace Lutheran Church in Augusta, and from 1-2 p.m., Saturday, Nov. 9, at the church, followed by the funeral services at 2 p.m., with Pastor Jonathan Wessel officiating.
Burial will be in the West Lawn Cemetery in Augusta.
The family is assisted by Anderson Funeral Home in Augusta.
Online condolences may be expressed at andersonfhaugusta. com. 80949