Posted on
Joni Rose (Peterson) Strand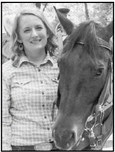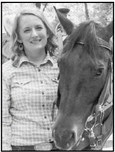 Joni Rose (Peterson) Strand, 36, Hammond, formerly from Cadott, passed away Wednesday, Oct. 16, 2019, in Colorado.
Joni was born in Chippewa Falls, July 28, 1983, to James and Donna (Goettl) Peterson.
She attended Cadott High School, graduating in 2002.
Joni enjoyed running her own dog grooming business, Joni's Dog Grooming, in Hudson.
She enjoyed spending time with her son, Nicholas, her aunt, Priscilla, cousin, Heath, her horse, Ty, and her pups, Pixie and Sobie.
Her passions were riding horses, the outdoors, hunting and painting. Joni spent her last days fulfilling a lifelong dream of hunting elk in Colorado.
She is survived by her son – Nicholas Strand; parents – James and Donna (Goettl) Peterson; sister – Sara (Derek) Petska; brothers – Charles (Melissa) Peterson and Adam (Mykell) Peterson; half-brother – Anthony Peterson; neices – Serena, Willow, Angelie, Jordyn and Cameron; nephews – Elric, Liam, Brantlee, Koda and Leif; and many aunts; uncles and cousins.
She was preceded in death by her uncle – David Suvada; grandparents – Goettl and Peterson; and many aunts and uncles.
There will be a celebration of life Sunday, Nov. 10, from 1-4 p.m., at Rick's Halfway Hall in Cadott. 80867