Posted on
Shirley Ann Vlach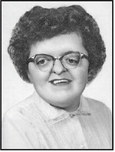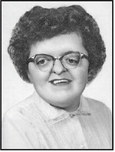 Shirley Ann Vlach, 81, formerly of Cadott, passed away Tuesday, Oct. 8, 2019, at the Chippewa Manor Assisted Living in Chippewa Falls.
Shirley was born July 14, 1938, at home, in the township of Arthur, Chippewa County. She was the daughter of Robert and Helen (Fuchs) Vlach, and grew up in the area.
She graduated from Cadott High School. Following graduation, Shirley worked with Bertha Thurn, working with handicapped children.
Bertha introduced Shirley to many crafts to make and sell. One of Shirley's joys came, when Bertha had a rug loom and brought it to her home, and taught Shirley to make woven rugs. How she loved making them; she probably made and sold more than 500. How proud she was.
Shirley enjoyed many things in her life, putting puzzles together, playing cards, riding her bike, fishing with her dad, helping with the farm chores (at one time, there were 17 cats and kittens). How she loved them. She even drove the tractor at haying time and volunteered, helping others where needed.
Shirley was an area news correspondent for the Courier Sentinel for over 30 years.
Her trip to Alaska, in 2009, to visit her cousin, Bob Novotny and family, was an unbelievable dream.
Shirley moved to the Chippewa Manor Assisted Living apartments in December 2015.
She is survived by cousins and caregivers – Linda Dahm and Jim Dahm.
She was preceded in death by her parents.
Services were held at 4 p.m., Friday, Oct. 11, at the Chapel of the Resurrection-Chippewa Manor, with the Rev. George Olinske officiating. Interment was Saturday, Oct. 12, at 1:30 p.m., at the Bohemian National Cemetery in the Town of Arthur. Visitation was from 2:30 p.m., until the time of service, Friday, at the chapel.
A special thank you to the Chippewa Manor Assisted Living and nursing for the wonderful care given Shirley these past nearly four years.
In lieu of flowers, memorials are preferred to the Cadott Area Historical Society.
80536