Posted on
Boys get last-rock win; girls just miss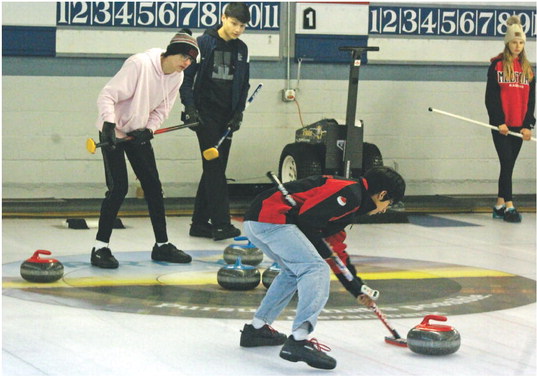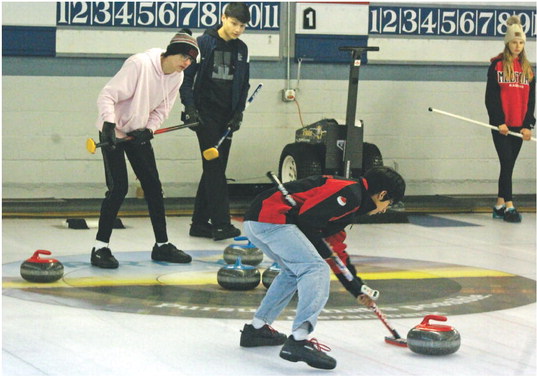 MEDFORD CURLING
It came down to the final rocks from both the Medford boys and girls curling teams as they faced Wausau West at home on Tuesday afternoon.
Medford boys skip Brett Lundy threw a takeout that stayed with his hammer stone to score four in the 8th end and bring the boys to an 8-7 win on sheet two at the Medford Curling Club.
One sheet over, the girls were tied up going into the eighth end with Caidyn Zenner throwing a draw on the hammer stone that despite strong sweeping efforts came up just short letting the Wausau West girls get the win 6-5.
Both matches were competitive throughout.
On the boys side, West appeared in control in the first part of the game. They stole a point in the first end, and another in the second and in the third end laid three rocks bringing the score to 5-0 heading into the fourth end. The Medford boys were able to rally and got on the board with three in the fourth end and another two in the fifth. Wausau West answered back with a point in each of the sixth and seventh ends leaving Medford with hammer coming home in the eighth end.
Medford had multiple rocks in the house with Wausau West in count and their rock parked behind a Medford stone leaving only a portion visible to the thrower. Third Alex Wilson called the take out and stick with Lundy, with the help of lead Nathan Willman sweeping around some front guards to make the shot and secure the win.
On the girls side, a fast improving Medford team under skip Caidyn Zenner played a strategy game with the front of the ice crowded with rocks in each end leaving few ports for scoring.
The Medford girls got on the scoreboard with one in the first end. This was answered by two points from Wausau West in the second end, with Medford tying up with a point of their own in the third end. Medford picked up another two points in the fourth end only to have Wausau West get two points in the fifth end. Medford scored again in the sixth end and Wausau matched it again with a point in the seventh, leading to a score of 5-5 with Medford having hammer coming home in the eighth end. Wausau West was able to score another in the eighth and get the win.
The teams had been scheduled to compete in the battle of the brooms last Friday but that was canceled as Portage went to a virtual learning day due to poor weather in that area.
The boys and girls go on the road on Friday, heading to Stevens Point.