Posted on
Debt not in the vocabulary at Lake Holcombe School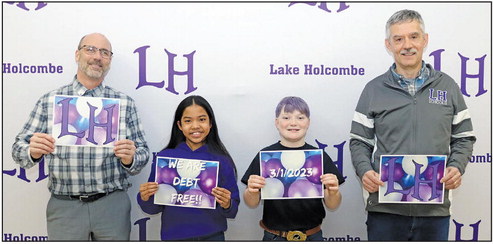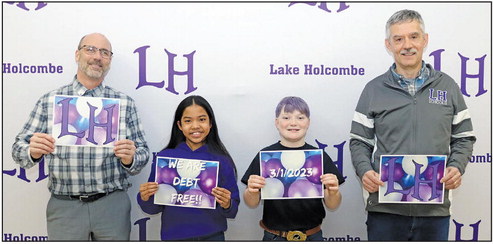 Joined by students Micah Cutor (second from left) and Douglas Phillips (second from right), Lake Holcombe School administrator Kurt Lindau (left) and Board of Education president Brian Guthman (right) celebrated March 1, as the district turned debt free. To make the event extra special, students and staff were treated to an ice cream party during lunchtimes. Photo by Ginna Young
By Ginna Young
It was a day of celebration at Lake Holcombe School March 1, as the final payment was complete to the Unfunded Pension Loan that all school districts are responsible for. What does that mean for Lake Holcombe?
"The district has no long-term or short-term notes, or bonds," said district administrator Kurt Lindau. "Debt free is 'freeing.'" Brian Guthman, Lake Holcombe School Board president, agreed.
"I think that anytime one makes the last payment on a loan of any type, it is a good feeling, a feeling of accomplishment," he said. "That is how I feel about the Lake Holcombe School being debt free."
As a Lake Holcombe graduate and retired teacher for the district, it's especially poignant for Guthman.
"The community and the taxpayers of the district have accomplished this together, and it should be a great feeling for all of us," said Guthman.
Guthman says he is very grateful to the taxpayers for keeping their district open and that on behalf of the Board of Education, he wants to express his thanks.
As the district moves forward without the obligation of debt, community support will continue to be needed in every facet of the students' education, now and far into the future.
"It gives everyone a sense of pride, in showing that we have a small, but excellent school," said Guthman, "with families and community members being committed to, and showing that, our kids, school and our community, are worth preserving."