Posted on
Cornell School Board; Cooperation between district and youth sports at a high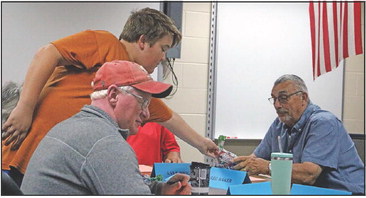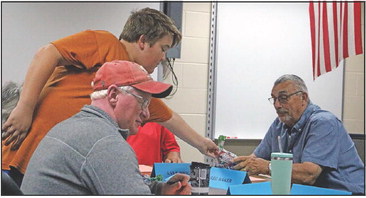 Babe Ruth player Donovan Bera hands out bags of candy and treats to the members of the Cornell School Board July 25, as a thank you for keeping the field maintained for the youth during the summer. Photo by Ginna Young
By Ginna Young
There are good relations between the Cornell School District and youth sports teams, and the goodwill continued at a regular Cornell School Board meeting July 25. Ashley Carothers, the 2022 Babe Ruth Baseball coach, and her son, Donovan, were on hand at the meeting to give the board a token of the team's appreciation.
This summer, the 13 and 14 year olds noticed how much work went into upkeep of the field they played on, and wanted to return the favor in some small manner.
"We just wanted to say thank you, because we realize it's a lot of work to upkeep a field, especially in the summer, when you'd rather be doing something else," said Carothers.
Superintendent Paul Schley says he is glad the field got used.
Eileen Sikora, board clerk, said Carothers can be very proud of what she's done and what was accomplished with the youth under her direction. Sikora asked how many people put aside their time to focus on the youth in the community.
"You should actually get a trophy for doing that," said Sikora.
Carothers has coached in some capacity for six years, and her hope is to become qualified enough to coach high school baseball – especially with a slew of the younger kids waiting in the wings.
"If we can keep them interested and invested in going, my hope is, by the time they get into high school, they still have that interest and they're still going, so we can have a team," said Carothers. "We just got to keep them going."
"You put your heart and soul into it," said board treasurer Stephanie Seidlitz. "And you're more than just a coach, you really are."
Sports are looking promising for Cornell, as the district made a partial payment of $163,000 for the track resurfacing project and purchased hurdles for $6,480 ($5,000 of that was paid for by a donation from former track coach Eino Martino), plus, as part of their track co-op agreement, Holcombe paid half.
The public is reminded to stay off the track and the tennis courts until the resurfacing is complete, and Schley says cameras are set at the athletic building, to see if anyone is messing around doing something they shouldn't.
In the business portion of the meeting, the board approved the resignation of paraprofessional Sheri Gavitt, and the hire of paraprofessional Krista Zwiefelhofer and district administrative assistant Nicole Viegut. They also approved the 2022-23 bread contract with Bimbo Bakeries, and the 2022-23 milk contract with Kemps, and granted permission to Schley to hire for any vacancies before school starts.
Gavitt expressed her regret for stepping back from her position, but said she is needed at this time, to watch young children in their family.