Posted on
Discussion looks to increase local factor in school meals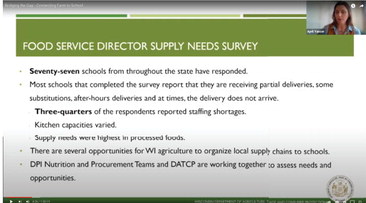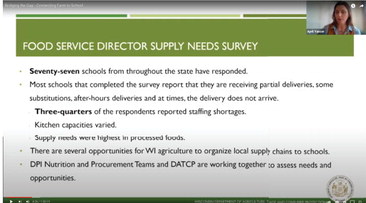 April Yancer, Wisconsin Farm to School coordinator at the Department of Agriculture, Trade and Consumer Protection, showed the results of a Food Service Directors Supply Needs Survey, during a webinar on connecting farm to school, Dec. 14. Yancer talked about the supply chain disruptions many schools are experiencing and how connections can encourage local procurement to help meet those needs.
By Julia Wolf
How can schools and farmers work together to enhance access to locally grown products? That question was the center of discussion during a webinar, Dec. 14, hosted by the Wisconsin Farmers Union (WFU), and Wisconsin Department of Agriculture, Trade and Consumer Protection (DATCP).
April Yancer, Wisconsin Farm to School coordinator at the DATCP, talked about her role in bringing farm to school. The Farm to School & Institution Program was established in 2009.
Yancer says all are dealing with supply chain issues, and hopes that the conversation helps facilitate connections and keep Wisconsin resilient. Some current efforts include marketplace meetings, technical assistance and working with a Specialty Crop Block Grant.
"We sent out a survey to food service directors, to better understand the needs and opportunities there," said Yancer.
Yancer says, early in the school year, they realized there were going to be some serious supply chain disruptions.
"Schools were having a really hard time hitting the ground running, because of a variety of problems," said Yancer.
There were labor issues in the production and distribution of food, and materials, as well as staff shortages in the school kitchens.
The survey responses showed the food supply connection needs were greatest for whole grain items, grab n' go items and preportioned packaged items.
"We did not hear that schools were short on dairy products or liquid milk," said Yancer.
Among the meats, chicken was the highest, followed by beef and pork. Yancer says the survey showed fresh and canned fruits, and vegetables were in short supply, but easier to come buy.
The marketplace meetings bring together suppliers who are already working with school food service and school food service directors, who are already engaging in local food procurement. Yancer says the meetings give those involved time to make connections, meet new people and try to find their market and supply needs.
Yancer also talked about the Specialty Crop Block Grant, a DATCP pilot project, in partnership with Midwest Foods, to bring a product line of minimally processed fresh fruits and vegetables to schools. Yancer says it has been great to get the project off the ground.
"During supply chain disruption, it is really asking a lot for school food service directors to take on a change," said Yancer, adding there have been some bumps in the road, but they are building relationships and looking to grow the program.
Yancer also talked about safety resources for growers, through the DATCP, especially small-scale growers, which a vendor may need to have to sell to schools.
Susan Bostian Young, a school nutrition consultant through the Wisconsin Department of Public Instruction (DPI), talked about how the DPI administers USDA child nutrition programs, which most public schools and some private schools chose to participate in, and how the Farm to School program fits in.
"When they do operate these programs, they agree to meet numerous program regulations," said Young. Within the child nutrition programs, there are three elements of Farm to School programs and schools can choose which to participate in. The three areas are nutritional and agricultural education, procurement (local purchasing) and school gardens.
Young focused on the procurement element, since it fits around the webinar theme of making connections to move locally produced foods into schools.
Young says food service directors have the choice to procure local foods for any of the child nutrition programs and all local foods purchased, have to meet the regulations of the programs they are serving the foods in.
"Within each of these five food groups, there are minimum serving sizes," said Young, which serves as a type of measurement for food service directors to decide how much of each type of food they need.
Young explained how crediting and counting meal components works, and says the DPI is willing to help farmers or processors get information on child nutrition labels, or product formulation statements for more processed foods, so food service directors can credit the items properly.
She says schools typically plan meals monthly or on a cycle, but, because of supply chain issues, some schools have planned menus only a week in advance, to make sure they have the foods for those meals. Furthermore, the quantities of food a school needs depends on the number of meals they serve.
"I would encourage suppliers to not make assumptions about how much of something schools might need," said Young. "You might feel that you don't have enough to supply a school.
She says schools have ways to combine products to make a meal out of more than one source. When it comes to price, Young says there is variation in what schools are willing to pay for food products, so it is up to the farmers and producers to set the asking price at the place they need, which schools will determine if it is reasonable for their budget.
Young says schools may also have different requirements for which food safety certifications are needed from farmers and producers.
Kara Ignasiak, DPI nutrition education consultant, shared information about the Wisconsin Local Foods Database (LFD), which connects schools, and local farmers and producers. The LFD is made possible through the AmeriCorps Farm to School Program.
Local producers can sign up and share their farm business information for free, which schools can search. There is also the reverse of that, with a database of school nutrition directors that farmers can search. Ignasiak shared a video demonstrating how to use the database. The link to the database is available on the DPI website school nutrition page, under the Farm to School.
Following the information, attendees heard the basics of how schools conduct procurement, to helps farmers and suppliers better understand the process.
Those who would like to watch the full webinar can do so, at the WiFarmersUnion YouTube page.
[caption id="" align="alignnone" width="371"]
Susan Bostian Young, Department of Public Instruction school nutrition consultant, talked about the Farm to School Program and how local purchasing of food items fits in, during the webinar. She briefly talked on how schools plan their menus and says the quantity of any one item needed depends on the school.[/caption]