Posted on
Lake Holcombe Town Board; Don't clear snow into right-of-ways or face a fine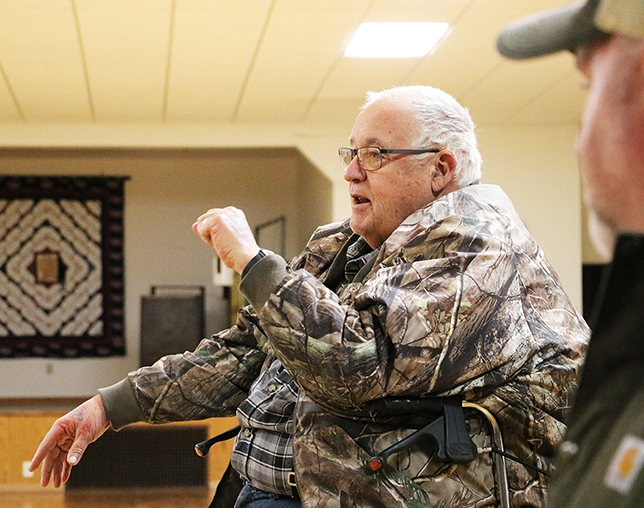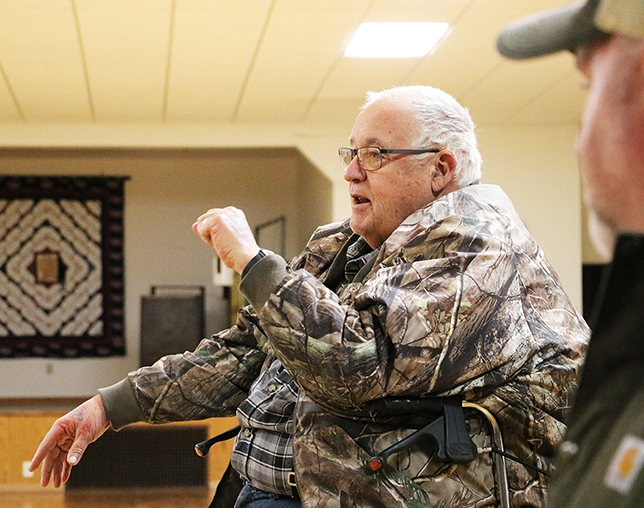 Buck Steele, Lake Holcombe Sanitary District Board chairman, spoke to the Lake Holcombe Town Board Jan. 13, about how the township will handle future employment of a sanitary district employee. Photo by Ginna Young
By Ginna Young
Snow can be fun for winter recreation, but it can also be a hazard within a township. The Lake Holcombe Town Board hasn't had a lot of fun this winter, when it comes to clearing snow, as discussed at a meeting Jan. 13.
"We have been having real issues with people plowing, pushing, blowing snow into our right-of-ways," said town chairman Brian Guthman. "Not just the road right-of-ways, the road itself – the blacktop and everything else. We're in real trouble."
Guthman said the snow piled in right-of-ways is dangerous for motorists who go off in the ditch and strike the piled up snow. It's also creating a block for melting snow, when culverts are blocked. Instead of melting and running in the ditches, the water is going across the road.
Per Wis. Stat. § 346.94(5), the law prohibits anyone from placing, or causing, to be placed upon a highway, any foreign substance which is, or may be, injurious to any vehicle. This prohibits anyone from plowing, shoveling or blowing snow onto a road. The penalty for violating this statute is $50 for each offense.
Additionally, Wis. Stat. § 86.022 makes it a misdemeanor, punishable by fine, to place any obstruction in a road ditch which will impede drainage. As such, individuals should not fill ditches with compacted snow. Municipalities may request that the sheriff's department cite individuals for these violations of state law.
If the sheriff's department will not help, the municipality may adopt its own ordinance and issue its own citations. It may also be sufficient to send a warning letter to the individual before alerting the sheriff or issuing a citation.
The board agreed that if they know who the offender is for moving the snow across the road or into a right-of-way, that individual will receive a letter, notifying them that a citation will be the next action taken by the town.
"We've done that now with the cars in the street and we've had fairly good luck, with warning them first," said Guthman.
Residents should also pay attention and drive carefully when the town is plowing the roads, especially at intersections. Town roadman Ben Jordan has seen with his own eyes how reckless people are when he is clearing an intersection, with one car even going up over the curb to pass him.
"They'll come right up, try to pass him on a different side," said Guthman.
Guthman also mentioned that he wants to keep on top of the specifications for paving on Pine Lake Road, as the town needs to stipulate that the drives and road transitions are also taken care of. Bids for the project will be put out in March, with pulverizing occurring as soon as the weather permits this spring.
Residents should also prepare for the need to take down mail boxes during the project and can construct a temporary makeshift mailbox, such as a milk can for the post and box to sit in.
During the meeting, Lake Holcombe Sanitary District Board president Buck Steele said he talked to City of Cornell administrator Dave DeJongh, about possibly sharing work, when sanitary district employee Duane Schultz eventually retires.
"He (DeJongh) said he would be more than glad to help us out in an emergency for a period of time, but we still got to get somebody to carry on after that," said Steele. "Anyway, in a pinch, we got somebody to do it."
While the town is not looking forward to Schultz retiring, "because he's done such a great job," the offi cials know they need to have a plan in place to get someone trained to take over.
Steele says he made sure Schultz understands the town is not trying to push him out, but needs to have a plan for the future.
Guthman mentioned how thankful he is Cornell is willing to come to their aid if needed, and said maybe, down the road, a full-time position could be shared through the town and the city.
In keeping with the discussion on the sanitary board, town members appointed current town clerk Tracey Larson to the vacant sanitary board seat, pending formal documentation of the resignation of Tracy Geist.