Posted on
Lake Holcombe Town Board; Snowmobilers causing problems for homeowners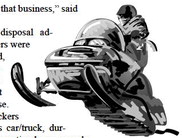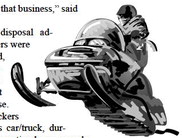 Although there's not much snow this winter, some Holcombe residents have trouble with irresponsible snowmobilers when the first flakes float down in November or December. Andrew Burgraff, resident at 275th Street, came before the Lake Holcombe Town Board Jan. 14, to ask for help about the matter.
Burgraff says his issue is with the snowmobile trail running by his place.
"I know it's not open right now, but the snowmobile trail for years, has been an issue, especially the section that goes between Eastbay and I believe it's the Big Minnow," he said. "My kid was almost killed last year, and the year before."
While he says most riders are responsible and follow the laws concerning the recreational vehicles, there are those who don't.
"But, it's the 10 percent that are ruining it for everybody," said Burgraff.
In addition to "tearing" through the area at 50-60 mph, Burgraff says he has had people ride up to his front door up his 50-foot driveway, along with continual damage to his property.
According to the DNR, snowmobilers are not supposed to use the easement of the utility in a township, because it requires going over blacktopped driveways and over yards.
"You are supposed to be using the actual road surface," said Burgraff.
Brian Guthman, town chairman, says he has heard talk about the trail moving, but is unsure if that is the case. At any rate, Guthman said the town doesn't want the travelers on the roadway either.
Guthman agreed to contact those in charge of the trail and see what they can come up with. Burgraff said he knows snowmobiling is important to the economy and said the trail is marked well, but needs to be used properly.
"It's just been such a huge problem with the snowmobile trail," he said. "Something has to be done about it."
Something else that needed to be taken care of recently, was handled by Guthman.
"We were having some problems with parking on the street," said Guthman.
Without much snow, people decided to park on the town streets, but when snow did come, it caused a problem for the plows to try to clear the road around the cars. Guthman then printed up notices and went around to the houses where the problems occurred, which seemed to help.
As a reminder, there is no parking overnight on the town streets, especially from 2-6 a.m., so the roads can be cleared if needed.
While on the subject of plowing, it was brought to the board's attention, that there is a discrepancy about payment for plow work. Bruce Jones has plowed part-time for the town for a couple years, after he retired as the town roadman.
Jones had received overtime, such as from 6 p.m. to 6 a.m., weekends and holidays, but after he retired, that wage rate was never changed, until recently, when board clerk Tracey Larson happened to look back on the minutes from a couple years ago, and realized the town was "overpaying" Jones.
"He just wants to keep going the way it was planned when he retired," said current town roadman Ben Jordan.
Jordan says Jones worked plowing on Christmas Eve, when he dropped plans to come in and plow the town roads. The employee handbook says no part-time employee gets overtime, but Jordan pointed out that the manual was written after Jones retired.
So, the board decided, for now, to leave things the way they are, because Jones provides a necessary service to the town on an emergency basis. Once Jones decides not to plow for the town anymore in a "true retirement," the employee handbook will be redone to reflect changes in overtime payments.
Members also looked at the Sanitary Board salary, which came about after John Bell resigned as treasurer of that board and mentioned that the salary should be increased for the amount of work done. Currently, the treasurer, now Tracy Geist, receives $1,800.
"Maybe it'd be a good idea to check with Tracy, see how much time she has to put in on it," suggested supervisor David Staudacher, to which the others agreed, adding that she will have a better idea of the work involved after she has a year under her belt. "We definitely have to take care of that."
Also on the agenda, was discussing whether to increase the town's insurance coverage for their buildings, with Eva Curtis of Rural Insurance. The matter had been brought up at the last few meetings, that the town should update the value of buildings, to provided adequate coverage, in the event of a fire or other disaster.
With that in mind, the policy then worked out to be a $2,500 increase, which was quite a hit on the town budget. Curtis said one thing she could do, is to issue a canceling re-write of the policy for a better discount. She warned that the company may say that because the building(s) was built some time ago, there is a risk.
Curtis said she may have to increase the town's deductible, or may have to list the actual value of the properties. Because the town has not had significant claims and is a good client that pays on time, Rural Insurance should take that into consideration.
"I think we should at least ask them and see where we come out," said Guthman.
He says they need to have coverage on the town's buildings, because if something happens, the town will have to put up a smaller building or ask the taxpayers to increase their giving, which no one wants.
Curtis agreed to come back to the next meeting with what she learned from Rural Mutual. She says the company is rated No. 1 by the Town's Association for municipalities and that it is also No. 1 in agricultural markets.
"And we're proud of those two things and we want to of course keep that business," said Curtis.
Waste site disposal admittance stickers were also discussed, now that the revamped site is not open at any time for use. With the stickers on a resident's car/truck, during the site's operation hours, people can dispose of leaves, grass clippings and small diameter brush.
Larson said she talked to a company in Eau Claire, who makes vinyl stickers with an adhesive back, but they need to know the size before the town can get a quote. Members agreed that a business card size is probably the way to go, while supervisor Doug Olson said it would be good to possibly have a place to write with a permanent marker to record a number, as sequentially numbered stickers may be far more expensive.
"Shouldn't the adhesive be on the front, instead of the back, so it goes on the inside of their windshield?" asked Olson.
Larson said she hadn't thought of thought of that and promised to look into it, as well as contact other companies that may do that locally. Guthman said the town needs to make sure they have a number attached to a name of a property owner, to make sure there is not "too much" dumped at the site, as has happened in the past from commercial owners.
Guthman also brought up the town's ordinances and what must be done about updating them.
"We've been trying for quite awhile to get some people interested in helping us write the ordinances," he said. "The long and short is, our ordinances here…it's way out of whack. As laws change, we are supposed to change all these ordinances."
Guthman said they should either look into what a company would charge to re-write the ordinances or possibly tackle the ordinances one a month on their own.
"We can certainly read through them," said Olson, but added that he would feel better if an attorney reviewed them before they are passed. "I don't know how we'd be able to update an ordinance and be confident that it meets the legal requirements of the state of Wisconsin."
Olson pointed out that some are simple, like changing the location of where the agenda is posted, since the bank is no longer open, while others are more complicated.
Larry Becker, town resident, questioned if Guthman could ask around to see what neighboring towns have on the books and how they handle ordinances.
"It kind of helps us, if you have an insight as to what other people are already doing," said Becker.
Treasurer Jim Mataczysnki (Holcombe Area Veterans Memorial Committee chairman) also brought up something before the board, as he and other committee members are visiting each township in the Lake Holcombe School District, to ask if the voters will consider discussing a matter at the annual towns' meetings. If it's agreed to do so, Mataczynski wants it brought before the township voters, a question of whether to give about $2,500 to the memorial, to sponsor a flag pole at the site.
Although it may be of concern for the individual boards to come up with the funds, Mataczynski says the fee includes concrete set-in, the commercial pole, lighting and a bronze plaque stating who paid for the pole.
"It does add up," he said.
With the spring election only a couple months away, in a town caucus held prior to the regular meeting, it was decided who will be on the ballot. Guthman was nominated for chairman, while Olson was nominated for Supervisor 1 and Staudacher was nominated for Supervisor 2. Mataczynski was nominated for treasurer and Larson was nominated for clerk.
No town constable was nominated, so the open position will be a write-in on the spring ballot.