Posted on
Mittermeyer recognized for 50 years in banking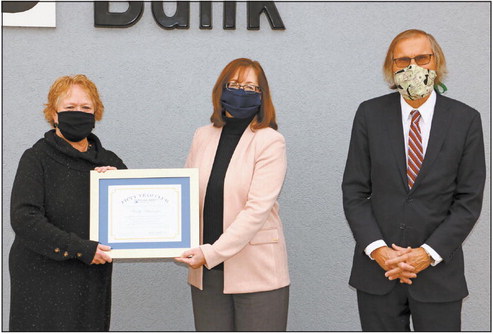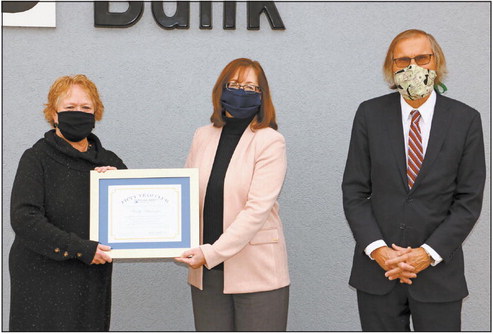 Wendy Mittermeyer has been a familiar face at Northwestern Bank for 50 years, a fact that didn't escape the notice of the Wisconsin Bankers Association. Mittermeyer was presented Jan. 8, with a plaque in recognition of her five decades working in the banking business.
"I was very surprised," said Mittermeyer, adding that she was especially touched that a representative from the association traveled all the way from Madison, to present the plaque.
Mittermeyer, who is now a vice president of Northwestern Bank, started her career in 1970, right out of high school, beginning as a teller. Included in her many experiences over the years, Mittermeyer recalls when the bank had metal plates made with the customers' names and addresses. By using a machine, Mittermeyer would "stomp" her foot on the machine to label the statements for mailing.
She also remembers when, in order to figure out monthend balances, she calculated them by hand.
"It's unbelievable," said Mittermeyer.
Stories like that, are what make Mittermeyer a valuable member of the bank and give people a look at history, something Jerry Jacobson, president of Northwestern Bank, thinks is great. Jacobson said in such a long time with the company, Mittermeyer has gotten to know all the customers and can take a sense of pride in knowing she's helped families buy homes.
"It's really important to have community banks," said Jacobson.
Mittermeyer says she is very honored to receive the recognition, and said how proud she is to have been part of the Cornell community, as well as a small town bank that is so involved with helping the communities they serve.
Rose Oswald Poels, president/CEO of the Wisconsin Bankers Association, said it was a pleasure to present Mittermeyer with the award, as it's not often someone stays in banking that long – and with the same company the entire 50 years.
"That's very unusual, actually, and very special, too."